Spotify Discovery Mode is a free music marketing tool designed to get you more streams from listeners who like music similar to yours. At the time of writing this Discovery Mode is in early testing and comes with its own set of requirements, and access is limited. However there are ways for you to get access to it if you meet the requirements.
Since Discovery Mode is in early testing it's likely a lot will change in the coming months and years. I'll try to come back and update this article as things change. Additionally there may be differences depending on which distributor or label you work with.
Alright, lets get into it!
How Does Spotify Discovery Mode Work?
First let's talk about the basics of how Discovery Mode works. Spotify Discovery Mode is a free music marketing tool provided by Spotify. Instead of paying money directly to Spotify, you're giving them a percentage of your song's royalties in exchange for additional algorithmic placements in Radio and Autoplay.
Spotify's Radio is an algorithmic playlist that generates based on the context of where the radio playlist is launched. For example there are radio stations for artists, songs, albums or playlists. Autoplay isn't a playlist, it's a feature. When someone finishes listening to a song, album or playlist Spotify will start generating infinitely more music similar to what the listener just listened to – this is Autoplay.
Any streams Spotify gives you from Discovery Mode will pay 30% less per stream, but any streams you get outside of Discovery Mode will pay at the normal royalty. If Spotify sees your song isn't performing well on radio or autoplay, it may not generate that many additional streams in Discovery Mode. Each month there an opt-in window in which you choose which eligible songs to run in Discovery Mode the following month.
Here's how Spotify shows this inside of Discovery Mode:

In summary, here is how Spotify Discovery Mode works:
Discovery Mode is a 'switch' you flip that enables that song to receive additional algorithmic exposure on Spotify in places like Radio & Autoplay
Discovery Mode is free
In exchange for the additional promotion you agree to receive a lower payment per stream on the streams that Spotify gets you from the additional algorithmic coverage
Streams that you get from normal means (followers, fans, editorial etc) are still paid at the same rate
You may have noticed that I said each month you can choose which eligible songs to opt into Discovery Mode, so let's talk about the requirements for Spotify Discovery Mode.
Spotify Discovery Mode Requirements
There are several requirements a song must meet to be eligible for Spotify Discovery Mode. One major one a lot of artists don't realize is you can't use Discovery Mode for new music, it must be at least 30 days old.
Here are the requirements for Spotify Discovery Mode:
The track must have been released more than 30 days ago
The artist must be credited as a main artist or remixer
The track must have at least 1 radio and autoplay stream in the past 7 days
The song must have at least 500 streams in the past 28 days
Fortunately the requirements are quite easy to meet. If you've been following the music marketing tips I give on this site at all, you should have no problem hitting these numbers whether you're running Facebook ads or taking the free approach.
Getting Access to Spotify Discovery Mode
Getting access is the hard part, as it's set at the distributor level. Some distributors allow you to contact them and opt songs into Discovery Mode, like Melodist (although this will be available directly to customers inside the portal soon). DistroKid has been rolling out support for it directly through Spotify for Artists, but you have to apply and join the wait list. Sony Music has completely banned the usage of Discovery Mode, which means The Orchard also won't allow it.
You can join the wait-list directly on Spotify's website for Discovery Mode, and depending on which distributor you use they may or may not grant you access. It also isn't clear if you need to meet certain metric requirements at the artist level to gain access to the feature.
How many monthly listeners for Discovery Mode?
Right now as far as I know there are no monthly listener requirements to get access to Spotify Discovery Mode. I've seen several artists with less than 10,000 monthly listeners have access, and have heard from people saying they have access with only around 1,000 monthly listeners.
During the closed pilot phase of Discovery Mode there was a page that stated you had to have a minimum of 25,000 monthly listeners but it seems that this is either false, or no longer applicable.
Discovery Mode Metrics
When you run a Discovery Mode campaign Spotify gives you a report with several key metrics so you can gauge how your campaign is running. They break these into three categories:
Audience Growth – Listeners
Long-Term Engagement – Saves, Playlist Adds
Streams – Streams
This is quite similar to how they show data for Marquee campaigns, and the data you already look at inside of Spotify for Artists. They also calculate some 'lift' metrics for you which show the overall impact Discovery Mode had for listeners and streams compared to the previous month.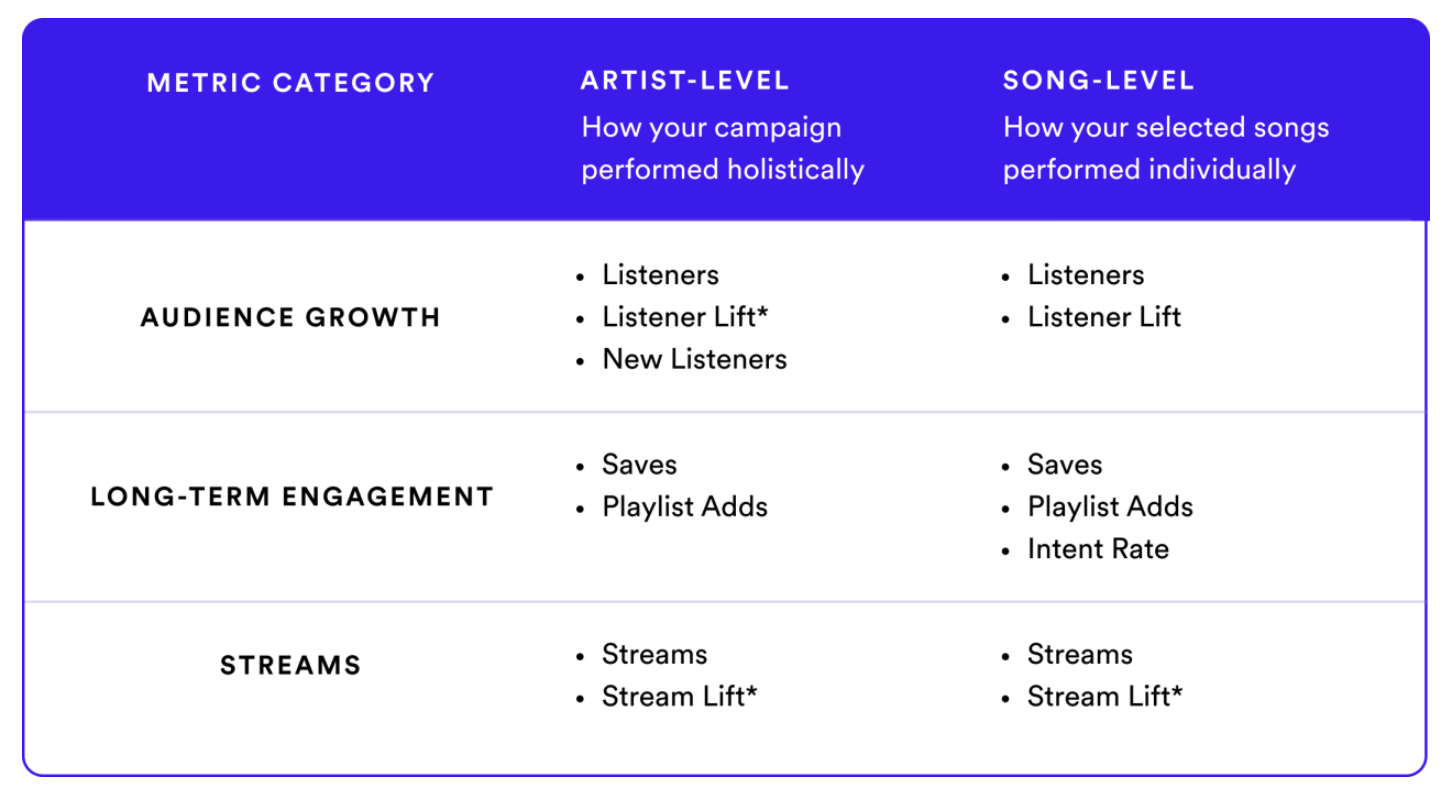 Discovery Mode Strategy
There have been several case studies provided by Spotify showing off how artists are using Discovery Mode. One common trend is that artists were using it on select songs prior to the release of new music. The idea is that Discovery Mode will amplify the reach of the songs you opt in, and many of these listeners will check out other music by the artist or even follow them. This means that when the new song drops there are just more people readily available to hear it.
This may not make a massive impact for everyone, because Spotify Discovery Mode works best when you already get a good amount of streams from Radio and Autoplay. The more Radio and Autoplay streams you currently have, the larger the increase from using Discovery Mode will likely be. It amplifies the reach on those placements.
Marquee allows you to retarget people that have listened to your music in the past year, so you can also utilize Marquee to show the people that heard your older songs in Discovery Mode your new song.
If you're like many artists, this might start to sound scary to you… Not only are you likely already running ads and other promo to drive people to Spotify. Now you're going to give Spotify a larger share of your song, and then pay them directly to retarget those listeners? That's where we need to talk about the ethics of Spotify Discovery Mode
The Ethics of Spotify Discovery Mode
Earlier I mentioned that Sony Music has a ban on Discovery Mode, at least at the time i'm writing this post. There are also many artists that have voiced their concern over the tool because they don't want to give up part of their royalties. On one hand its a slippery slope argument, but I think it might be a valid one if Discovery Mode is left unchecked.
Spotify can't magically create additional listeners and streams. That means the streams from Discovery Mode must come from somewhere, which means other artists that aren't using the tool are losing listeners and streams. If you've looked at your Spotify for Artist data over the past couple months you may have noticed your Radio and Autoplay numbers doing some strange stuff.
Essentially when you run Discovery Mode you're taking streams away from artists that aren't using Discovery Mode. But what happens when every artist uses Discovery Mode?
Well, it has the effect of just reducing the Spotify royalty payment by 30% across the board. Spotify would have just increased their annual revenue by 30%, while giving all artists a 30% pay cut. Also if everyone is using it, then everyone will just be getting the same amount of Radio and Autoplay streams they were getting before Discovery Mode existed.
I'm not saying this is their master plan or anything, because I think there are ways they can prevent this from happening. Additionally this royalty adjustment only happens on Radio and Autoplay streams, which typically isn't more than 10% at most of an artist's monthly streams.
I think they need to throttle access to the tool, either at the artist level or the catalog level. Right now Discovery Mode is harder to get access to but eventually it will likely be available to everyone. Perhaps they should only allow a specific number of tracks to be opted in per artist at a time. Another option is to limit the duration you can opt songs in for Discovery Mode, this would incentivize only using it when it matters most for your strategy.
I definitely don't have all the answers, but from my perspective it seems like it has the potential to turn bad. As a tool that has limited access it can give you an advantage, but when everyone uses it the tool is pretty much meaningless.
Update: Spotify just announced a massive set of new features that will be coming to Spotify and Spotify for Artists including a new marketing tool called Showcase. Learn more here.