I've found Facebook ads to be the most effective way of growing my presence on streaming platforms like Spotify and Apple Music. It allows us to show our music to people interested in similar artists / genres and have access to Spotify on the Facebook / Instagram / Messenger ecosystem of placements.
Under my solo project i've managed to get over 3.5 million Spotify streams and over 100,000 Apple Music streams, mostly using Facebook ads that run on both Instagram and Facebook. I've also gotten another million streams or so in my other music projects. In this post i'm going to show you exactly how to do it.
Do Facebook Ads Work?
Just to get this out of the way because so many people ask this. Facebook ads definitely work, for music and for plenty of other industries. Anyone that tells you Facebook ads don't work for music promotion is either straight up lying or doesn't understand how to use them. But let me prove it to you.
This song was promoted entirely with Facebook ads. We didn't pay for playlists or come up with some elaborate social media strategy, we just ran ads. The song has over 1.1 million streams.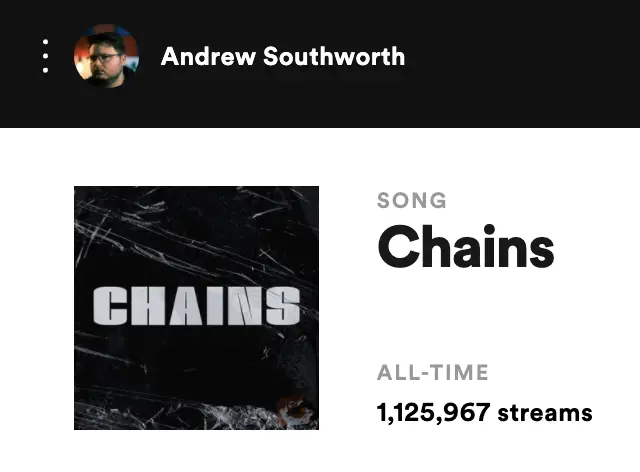 How about followers? Well in the past 3-ish years i've gone from almost no followers to over 9,000 Spotify followers.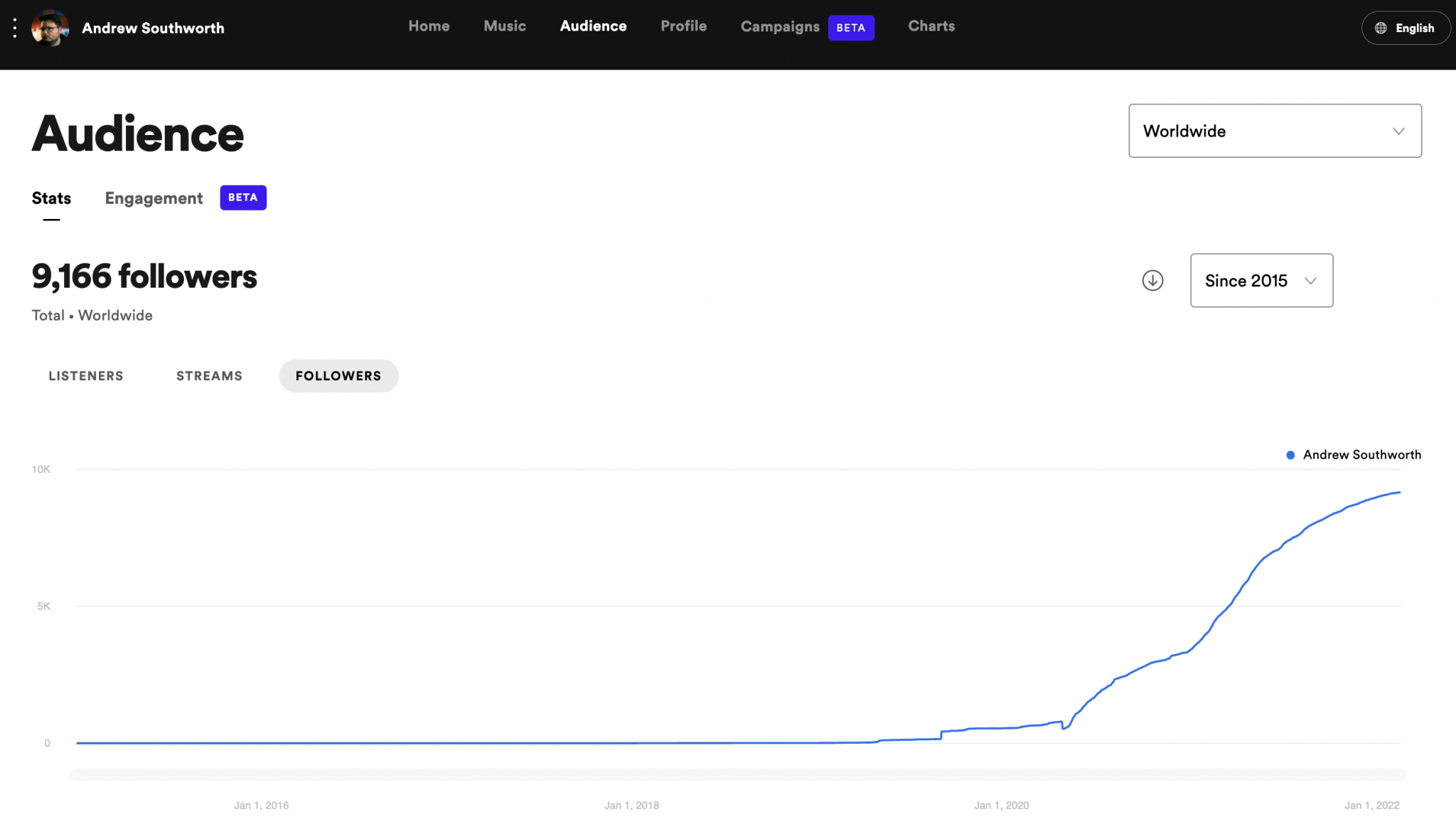 This is a song for my side project Murder Nite, and we only spent about $300 in Facebook ads for this song. The project is dubstep / metal, which proves that this can work for a very niche genre as well.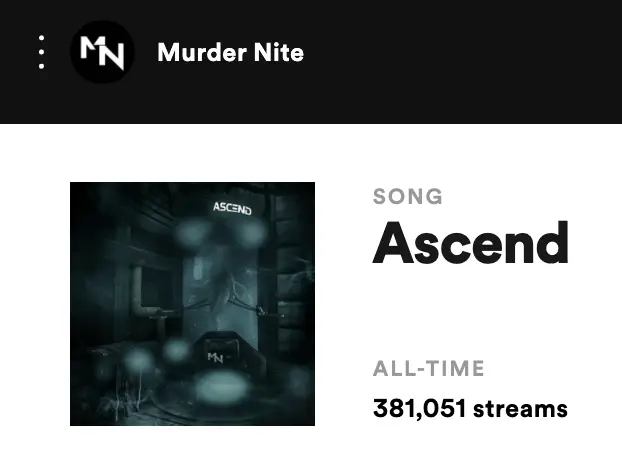 Or how about this lofi hip-hop beats project that was promoted 100% by running Facebook ad traffic to playlists I own?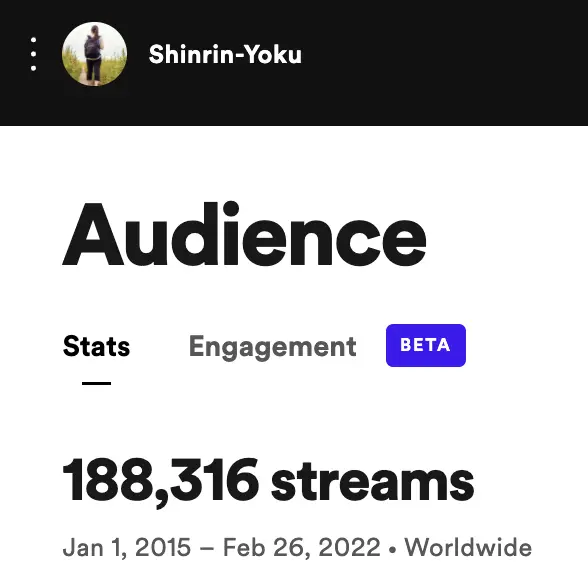 So the answer to the question "do Facebook ads work for music artists?" is: absolutely!
If you want to talk about the profitability or ROI of running Facebook ads for streaming, thats a completely different story with its own set of nuances which I might cover in its own post later (update: I talk about it a bit in this article here https://musicgrowthmachine.com/can-you-profit-from-spotify-streams-with-facebook-ads/).
Now, lets dive into how you can do this…
Spotify Conversion Ads Process
Before we dive into the step by step guide on building your own Facebook conversion campaign to promote your music, I want to show you the general process a potential fan will go through when you run this campaign.
Show them an ad
The first step of the process is your potential fan will see your ad. We want to make your ad something that a potential fan would enjoy, so it should be a video with music in it. The text of the ad can take a lot of approaches but in this case i'm references the style of music of the project.
This ad will run on Instagram placements, Facebook placements and story placements.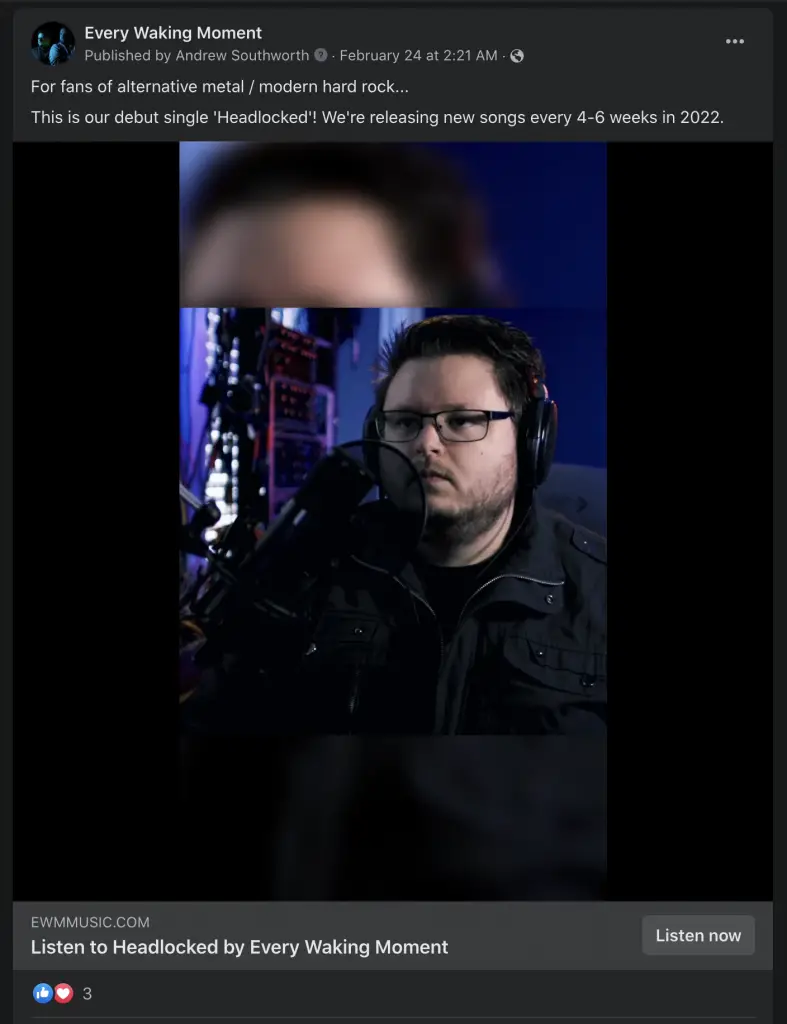 Ignore the weird formatting of the ad, the preview function on Facebook ads is often kind of messed up.
Take them to a landing page
When they click that 'Listen Now' button on our ad it takes them to a landing page – we don't send them directly to Spotify! Here i'm using a FeatureFM landing page.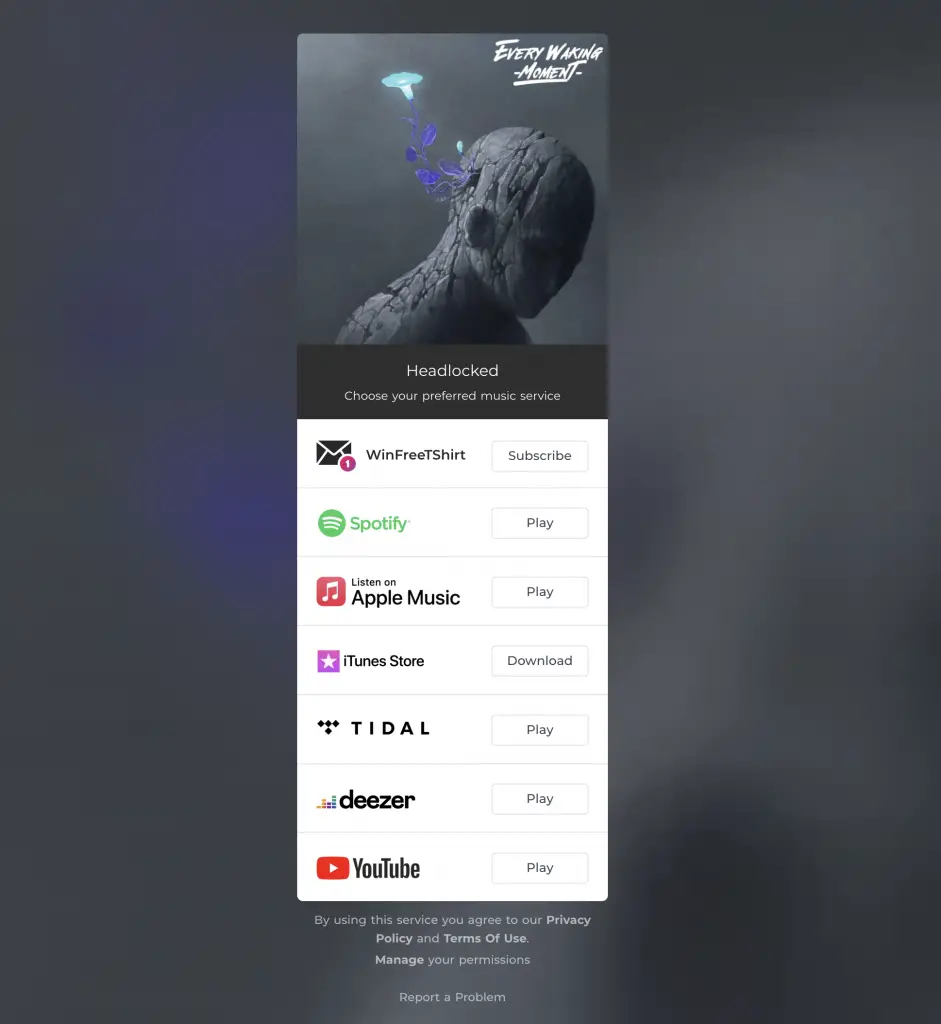 The reason for this is we want to use our Facebook Pixel / Conversion API (depending on our landing page) to track their activity and make sure they click all the way through to one of our music destinations.
You can't install a Facebook Pixel or Conversion API on Spotify itself. Using a traffic campaign direct to Spotify will almost always result in failure.
Step by Step Facebook Ads Guide
Alright now lets dive into how you can get this up and running for yourself. Facebook ads in general is a deep and evolving topic, and you're going to experience a learning curve just like when you first started making music. I hope this guide makes it easier for you!
Ad Creation
You might be wondering why i'm talking about the ad creation prior to the landing page creation or the Facebook ad creation. This is because your ads are one of the most important factors that determine how your campaign performs, aside from your music.
Typically I create my ads as a vertical story 9:16 format (1080×1920 pixels), but I design them where if they're cropped to a 4:5 they'll look good on feed placements. This is because on Facebook itself you can crop your ads, so you can use that vertical video for all placements such as Instagram Feed / Explore, as well as Instagram story.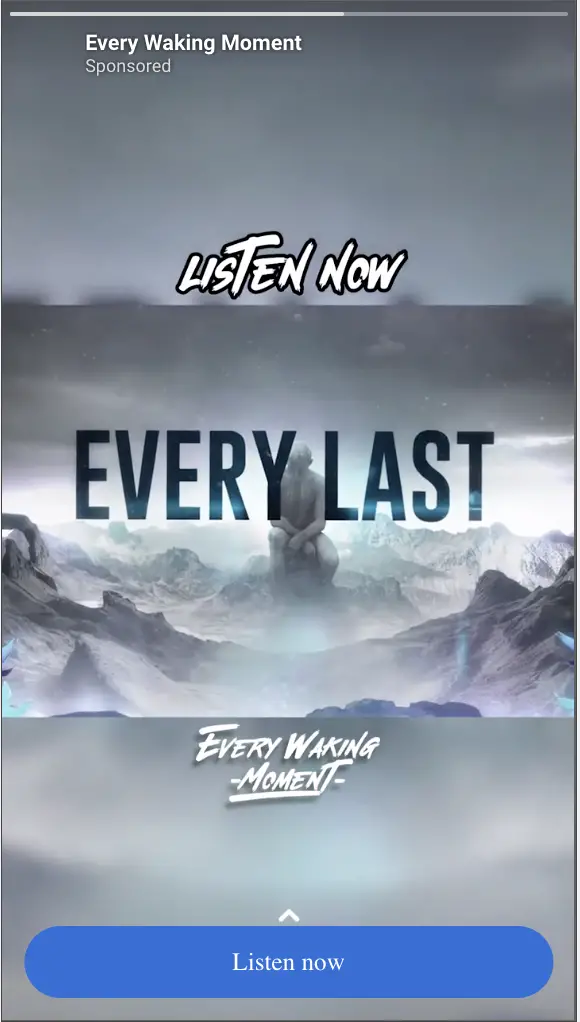 Here are some tips when it comes to ad creation:
Experiment with the type of ad. Every artist will have different types of ads that work best. For some performance ads will work best, others lyric videos or visualizers might be fine, others just a simple animated artwork video may work fine.
Always test multiple parts of the song on different ads. I've had cases where the chorus of the song was 3X more expensive than the verse of the song.
Keep your ads around 15 seconds long. You want to give them a taste of your song but leave them wanting more.
Landing Page Setup
There are many options for smart link landing page services for music. Here are some common choices:
The most common landing page tool I see people using is ToneDen, largely because they have a free tier and it's easy to get started with them. This is what a ToneDen music landing page looks like:
ToneDen can work fantastic and its a great platform to start on. Personally i've used Hypeddit more, and recently i've been loving FeatureFM due to its increased analytics options and lighting-quick page load speeds.
If you want to try out FeatureFM use code ASOUTH30 for 30% off any annual plan: https://feature.fm/andrewsouthworth
ToneDen Setup
First, make a free account on ToneDen.io and go to the Campaigns page, choose Smart Links and 'Create New Smart Link'.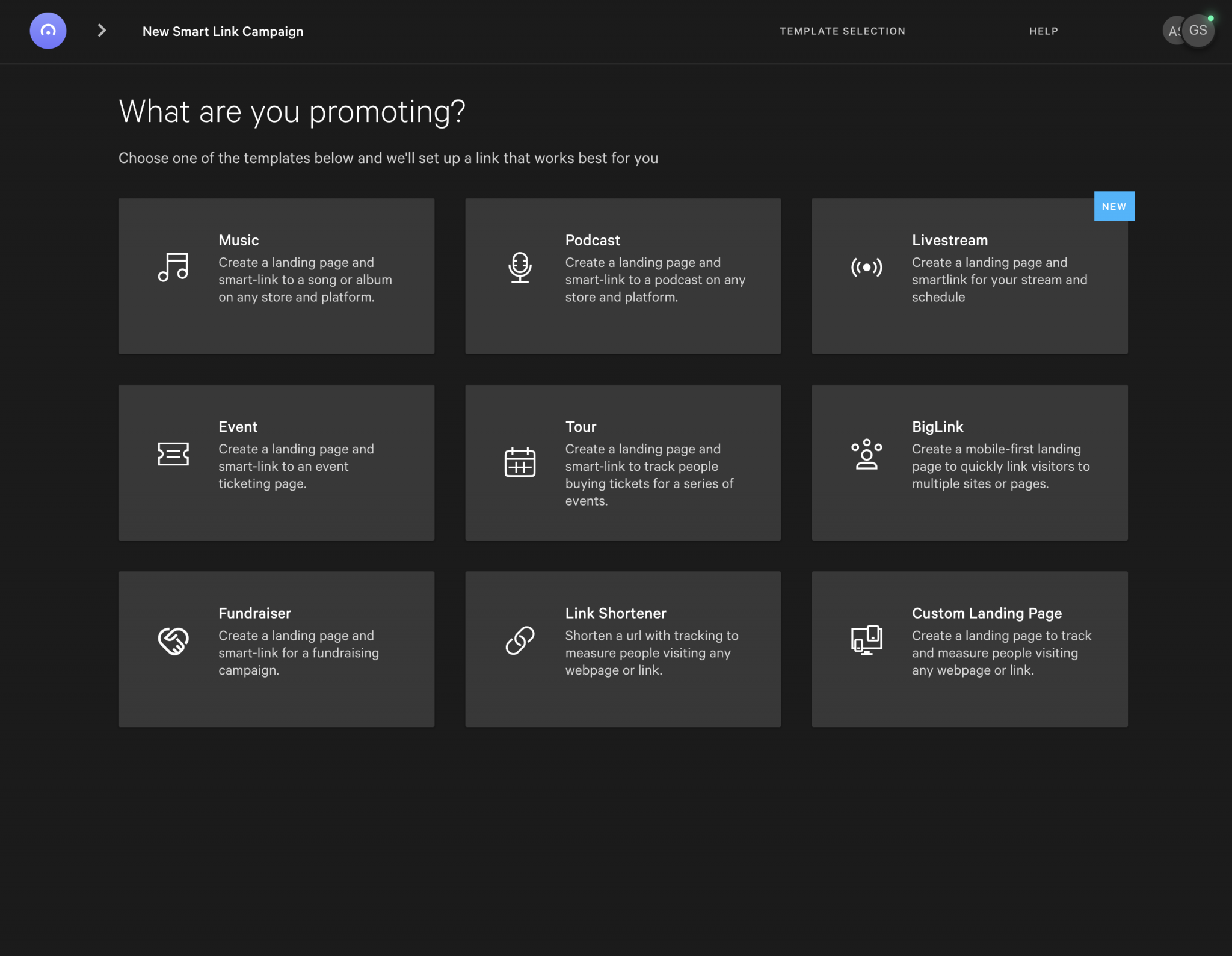 Next, choose existing release. This will take you to a page asking for your stream source. Head to your Spotify profile and grab the song link URL of your song.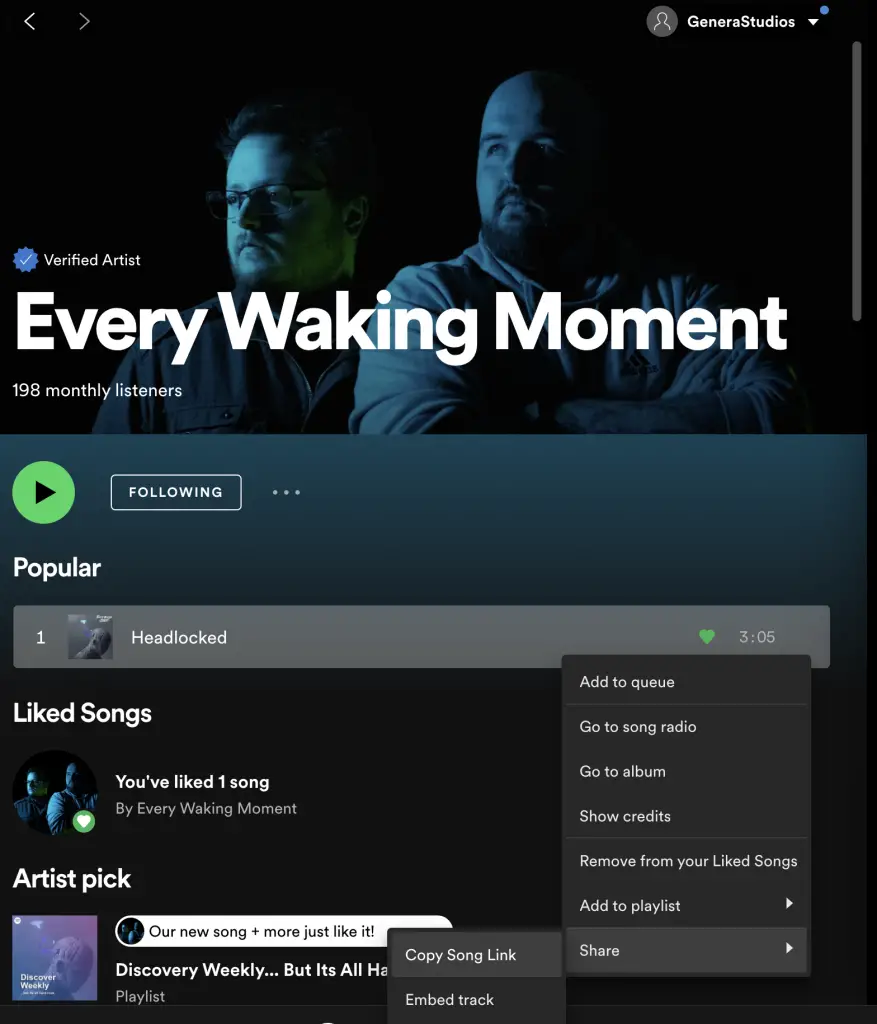 Next we're going to head to the Modify Link URL section. This is where you would choose your custom domain if you've gone through and done the iOS14 setup.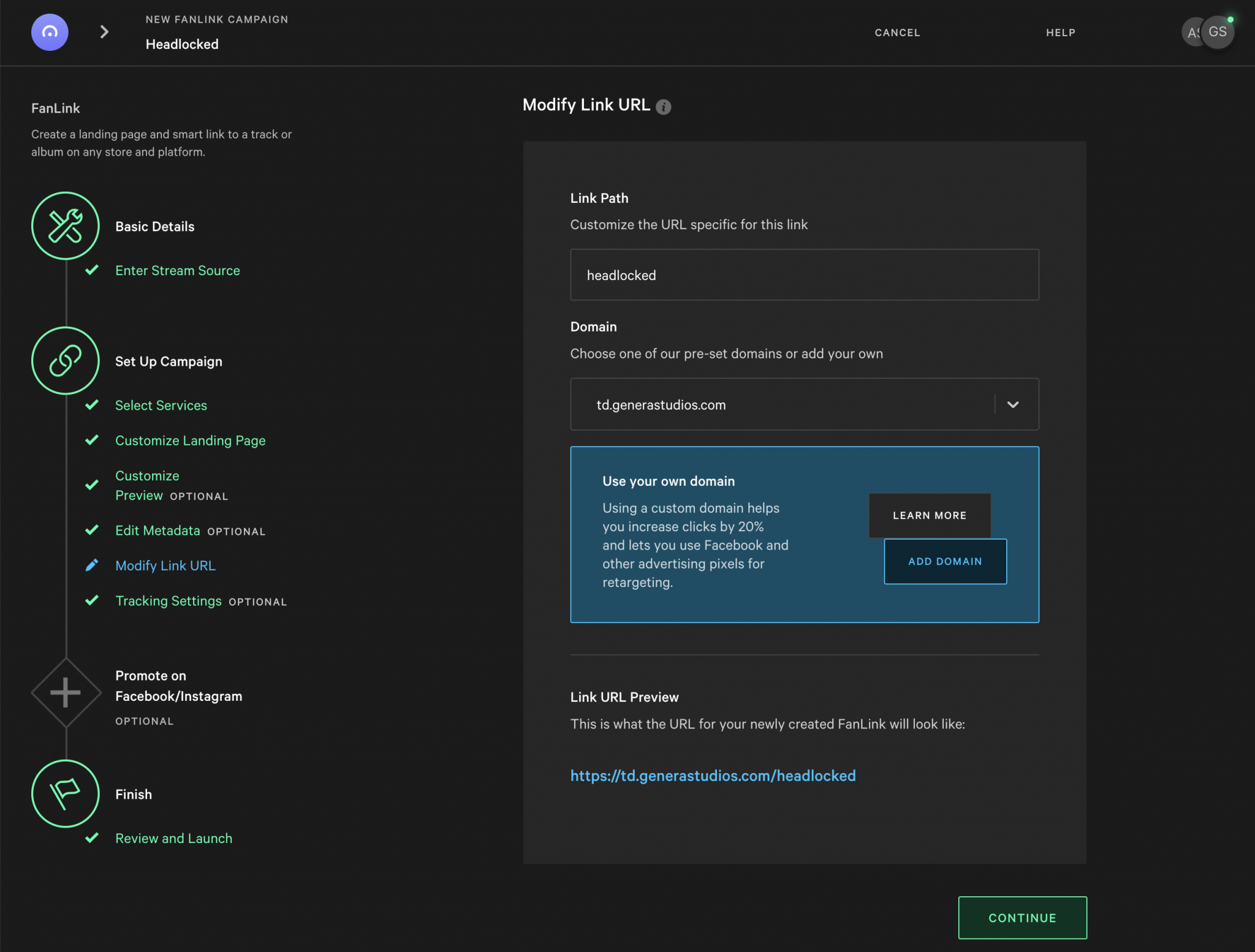 Next you'll want to copy your Facebook Pixel ID from Facebook Events Manager into ToneDen.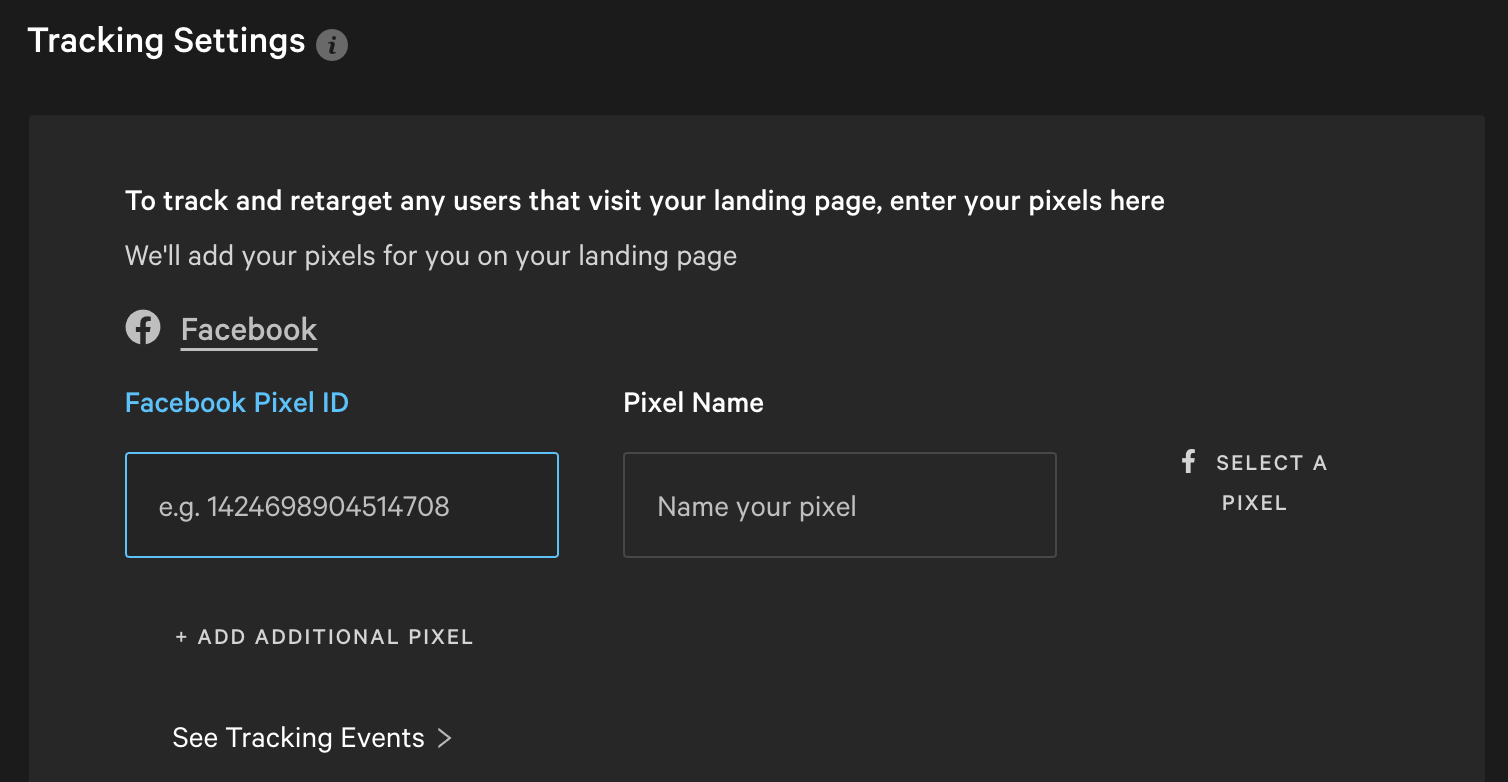 If you click that 'See Tracking Events' button you'll see how ToneDen handles Pixel events. When someone lands on the landing page it fires a PageView event, and when someone clicks through the landing page to go to Spotify or any other destination they fire a ViewContent event.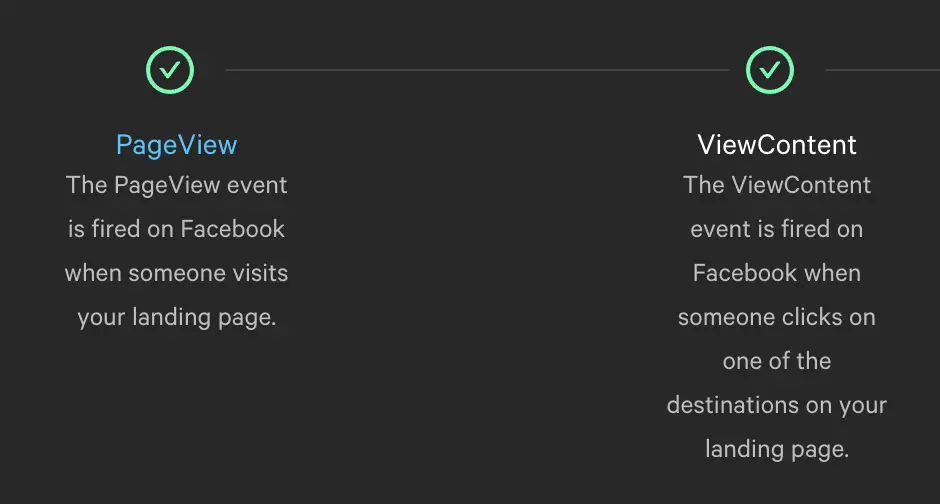 iOS14 Custom Domain Setup
Starting April 2021 Apple created a new operating system for iPhones that imposed a lot of rules for data privacy, and forced Facebook to create new systems for data tracking for users on their phones.
For around 4-5 months it was mandatory that you have your own domain name and set it up in a very particular way if you wanted to run conversion campaigns. Eventually they lifted this requirement and now its just recommended.
If you do not set up a custom domain properly you can't run ads to people using iOS14.5+ devices who have opted out of tracking, which is a large chunk of the smart phone market.
The general process for iOS14 setup is the following:
Own a domain name
Verify that domain on Facebook
Connect your domain name to your landing page services with a subdomain
Select which events you want to track in Aggregated Events Measurement
While iOS14 setup is no longer mandatory it's highly recommended, so I wrote another article going over how to set that up in detail. Check it out here: https://musicgrowthmachine.com/facebook-domain-verification-for-music-artists/
Can you use your own website?
Technically you can just make your own custom landing pages on your own website. The problem with this is I see most people messing up the Pixel conversion event setup, which will drastically mess up the campaign itself.
If you want to make it on your own website just make sure you're confident in how you set it up. Also double check the implementation using Test Events inside of Events Manager. If you have no idea what i'm talking about, just use one of the landing page services I listed above.
Another case for using one of the landing page services is just for time saving. You can make a landing page in less than a couple minutes with either ToneDen, Hypeddit or FeatureFM, and the data reporting is excellent.
Facebook Ads Setup
Alright now we're going to actually make our Spotify conversion campaign in Facebook ads!
Inside Facebook ads manager click the green 'create' button in the top left and the campaign creation window will pop-up.
Your campaign creation window may differ slightly. If you see an option for conversions, choose that. If you see the one i'm showing above then choose Engagement.
Then you'll get the campaign setup window. Here give your campaign a name, turn on campaign budget optimization and set your daily budget.
Click next on the bottom right of the screen to go into the ad set page.
The ad set is where you decide who you're targeting, where the ad runs, and what event you're optimizing for. If you're using ToneDen you'll want to choose View content as your conversion event.
Next scroll down to the audience section in your ad set. You'll want to add your countries, choose your age range and genders. Then i'd recommend targeting by Spotify, and the clicking 'define further' and narrow the audience by either a music artist or a genre of music.
I don't recommend choosing every single Spotify country. I've personally had a lot of issues targeting countries in South Asia, Africa, the Middle East, and the Caribbean. A lot of people ask me about targeting the USA only, and while its totally possible and makes sense for some people it is very often much more expensive. Brian Hazard in his Passive Promotion blog covered a great experiment he ran targeting only the USA and actually got cheaper results for certain marketing activities, check it out here.
If you want my exact country list, a detailed guide on how to run and optimize campaigns like this and access to a community where you can ask questions – check out my course Spotify Growth Machine.
Next go down to the Placements section and choose manual placements. I typically run on FB News Feed, FB Video Feeds, IG Feeds, IG Explore, and all 3 story placements.
Now you can click next on the bottom right of the screen to go into the ad creation window.
Here you'll want to choose your Facebook and Instagram pages. Then you can use the Media section to upload your video, and the Website URL section to put your landing page link (ToneDen, Hypeddit, FeatureFM, etc).
You'll also want to set some primary text, a headline and change your Call To Action to 'Listen Now'.
At this point you have a campaign that can be published! This is a simplified campaign and typically i'll start duplicating ad sets and ads to test different variables, but this by itself will work.
Here's a video I did for my song Sunrise that may give you a solid idea of how to duplicate and test different audiences and ads.
Facebook Ads For Spotify Tips
Here are some best practices for Facebook and Instagram ads to grow your Spotify audience:
Test Multiple Ad Sets
When we made our ad set we targeted a certain music artist or genre, but there are a TON of different things you could try here. Inside a singular campaign you can have multiple ad sets testing out different audiences.
In this image I have two different ad sets and you can see the cost difference between the two. These are quite close in performance, but even in this case they're still 10% different in price. 10% can matter a lot if you're spending a lot! In other cases you might have a 200% difference in cost depending on what you're targeting.
Test Multiple Ads
I mentioned this above in the ad creation section but you should use multiple ads. At the very least make sure you try different parts of your song, even if the visual is exactly the same between the ads. You can easily cut the cost per conversion in half of your campaign if you test different parts of your song!
On that same note you can also test out different visual styles for the same part of the song. So you could test how a performance video compares to a lyric video, and how those compare to a artwork animation video.
In this image you can see that inside my Alt Metal audience I have 5 different ads. I'm testing different parts of the song but also two different types of video styles. For this song the performance video 'ChorusBeg' is doing by far the best compared to the others which are lyric videos.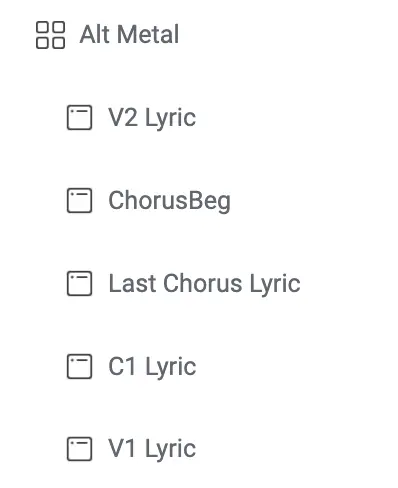 Use the Facebook Ad Library for Research
Facebook actually makes every single Facebook ad public for transparency. So you can search for any Facebook page and see if they're running ads!
Its called the Facebook ad library: https://www.facebook.com/ads/library/
Try Different Songs
Different songs will get different results. Even if you think your newest song is your best song yet, it may not be as consumable to a broad audience. I've had songs that get incredible feedback, get great results on SubmitHub and even got added to a Spotify editorial playlist, but did bad on Facebook ads.
On the flip side i've had songs do awful on SubmitHub and got rejected from Spotify editorial playlists (like most songs do) but do phenomenal with Facebook ads. Its not always clear which song will perform best so if your results aren't what you hoped for it may be best to save that money for your next release!
Use Spotify for Artists
Spotify for Artists is how you learn how many listeners, streams and saves your music has. Its also how you edit your Spotify profile and pitch to editorial playlists. Make sure you get access to your Spotify for Artists account.
If you're trying to get access to Spotify for Artists prior to your first release, check out this article I wrote on that here: https://musicgrowthmachine.com/how-do-i-access-spotify-for-artists-before-my-first-release/
More Resources
If you're looking for an organized guide thats updated regularly with a community for you to ask questions, I have a course called Spotify Growth Machine that's exactly that!
In addition to a more detailed walkthrough of everything we went over in this post, there is also an entire module dedicated to iOS14 domain setup, and a module with example ads. If you've ever wondered how the Facebook pixel works and how you can retarget people using custom audiences, thats covered in Spotify Growth Machine as well!
Now I totally understand wanting to learn more before buying a course, and I have a bunch more free content on this website but also on my YouTube channel. I'll link some videos below that might help you out.