Wondering how many Spotify streams, listeners, saves and followers you should get from your Facebook conversion ad campaigns? Use our free calculators to find out!
Calculators
Early Spotify Conversion calculator
This calculator is for ensuring that during the early days (day 3 to day 7) of your Facebook conversion campaign, the Spotify numbers are correlating with what we'd expect based on the number of conversions. It does not include longer term recurring listens, algorithmic traction or any kind of 'buzz' that would typically occur during a campaign.
Use this calculator as a guide to ensure you're getting at least this number of Spotify results for the chosen number of conversions during the first 3-7 days of your campaign. In most cases you will have more streams, listeners and saves than the numbers given by the calculator, especially as time passes.
Then you can use this next calculator figure out what you should expect for an entire campaign.
Whole Campaign Spotify Conversion Calculator
This calculator is for calculating what you can expect on Spotify for an entire 4-6 week campaign based on ad spend and cost per conversion. The numbers here are higher than the previous calculator because it factors in more recurring streams from listeners, people sharing your song to friends or via social media and some algorithmic traction starting to occur.
Want to get these results yourself? Check out our course Spotify Growth Machine.
Now that you see a ballpark of how your campaign might perform, use our next calculator to figure out how many ad sets (audiences) you might want to use in your campaign.
Number of Ad Sets Calculator
Often people wonder how many ads and ad sets they should have in their Facebook conversion campaign for Spotify growth. If you use too many you spread your budget too thin, if you don't use enough you might not be testing as fast as you could be. Type in your daily budget, the number of ad creatives you have and see the maximum number of ad sets you should use.
Treat this as a maximum more than a strong recommendation. I generally don't run more than 6 ad sets at a time, with higher budgets i'd rather increase the number of ad creatives before going higher on ad sets. Remember that as your campaign runs you can turn ad sets off and add new ones in.
Learn More
Running Facebook ads to promote your music on Spotify can be tricky, but we have all the tools you need to take advantage of this effective music marketing strategy.
Free Content
First of all, I have a ton of free content you can checkout to learn more about using Facebook ads to promote your music. Here are some links to take you down the rabbit hole:
Spotify Growth Machine
If you prefer an organized course with access to a private community and extra resources to help you get started, our course Spotify Growth Machine will be your best bet.
When reviewing our course, Jon from Two Story Melody said "Andrew Southworth's course, Spotify Growth Machine, is the best option on the market". Thanks Jon!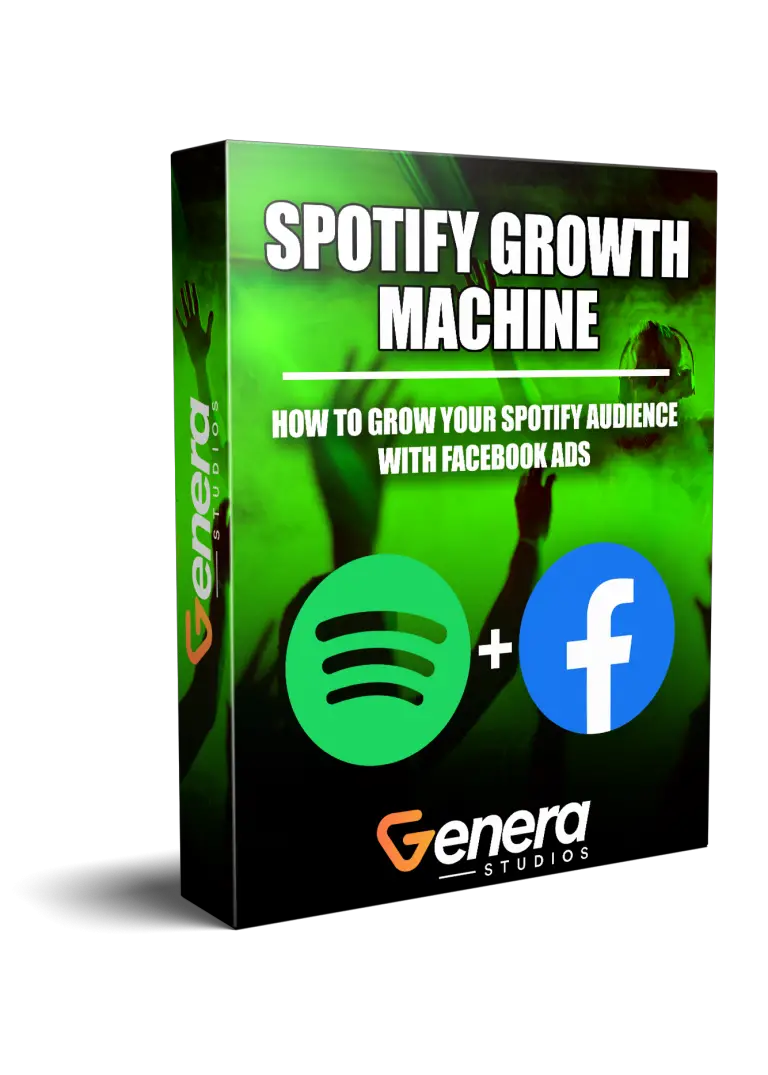 Spotify Growth Machine has the entire process from start to finish, including:
Setting up your Facebook ad account
Creating your landing pages
Installing the Facebook Pixel
Campaign setup and optimization
Example ads
Playlist growth ads
and more!
The course is updated regularly and you get all future updates for free.
Ad Management
If you'd rather have someone run these ads for you, that's also something we do. I've personally used this technique to get over 5 million streams on my own music, but i've used to get well over 100 million streams overall (probably much more).
Myself and my team combined have run campaigns for thousands of songs. Click here to learn more and reach out for a quote.
Consulting
Last but not least, we also offer consulting services. Whether you need help with Facebook ads, YouTube ads, TikTok ads, playlist growth, email list growth, sales funnel strategies or general music marketing advice we can help you!
We've worked with thousands of artists, managers and labels from just starting off to millions of monthly listeners on Spotify. Our calls are 1-hour long 1-on-1 sessions through Zoom where we can screen share, and even request remote control to help you setup your campaigns directly.