Last week I was launching the debut single for a new band, and I really wanted to be able to setup our profile and pitch our first song to Spotify editorial playlists before our first release came out. However most music distributors don't allow you to make your Spotify for Artists profile until you have a release out already. So is it even possible to access Spotify for Artists before your first release?
Yes, you can access Spotify for Artists prior to your first music release on the platform. To do this you'll need a song submitted to Spotify through your distributor. Spotify for Artists will ask for your Spotify artist URI, and later will ask for the UPC code for your release. This entire process only takes a couple of days.
In this post i'm going to show you how you can get access to Spotify for Artists prior to your first release, but first I want to explain why you need Spotify for Artists.
Do you need Spotify for Artists?
If you're new to releasing music and music marketing you may not understand exactly why or if you need Spotify for Artists at all. But you definitely do need it.
Spotify for Artists allows you to track how many streams, listeners and saves your music has on Spotify. You can also track follower growth, which playlists your music is being added to, demographic information of your listeners and more!
Spotify for Artists is also where you'll customize the 'about' page on Spotify, to add a biography, images and social media links. Its also the place where you can pitch your music for consideration to Spotify editorial playlists.
Without Spotify for Artists your Spotify profile will look boring, and you'll have no idea how your music is actually performing. This data is crucial for measuring the success of your music marketing efforts.
You don't necessarily need Spotify for Artists prior to your first release, but if you're trying to coordinate marketing efforts to have a big push from day 1 of your first release this will be very useful. Thats why we wanted it at least.
How to get Spotify for Artists Access prior to release
First you'll want to distribute your music through a distributor, I personally use DistroKid. Once submitting the song you'll have to wait a few days to ensure the song has been digested by Spotify. Then head over to Spotify for Artists and click on the 'Get access' button in the top right.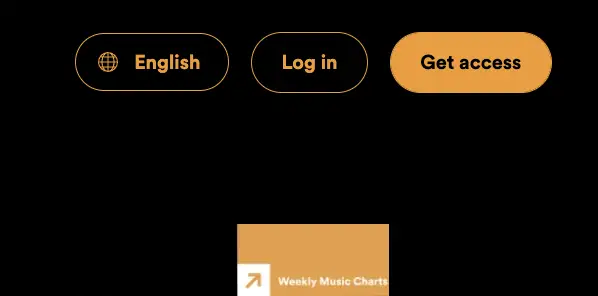 This will take you to a selection window where you'll want to choose 'Artist team'.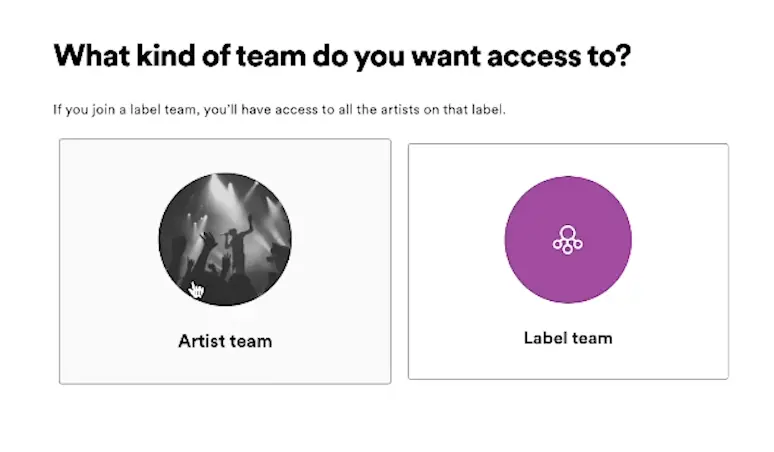 Next, Spotify is asking for the Spotify artist URI. You can also search for the artist name, but in cases of more common names this may not be the best method. I recommend going to your distributor and asking for the Spotify artist URI code. DistroKid has a built in system where you can get all of your links for unreleased music called the 'Spotify URI looker-upper' tool.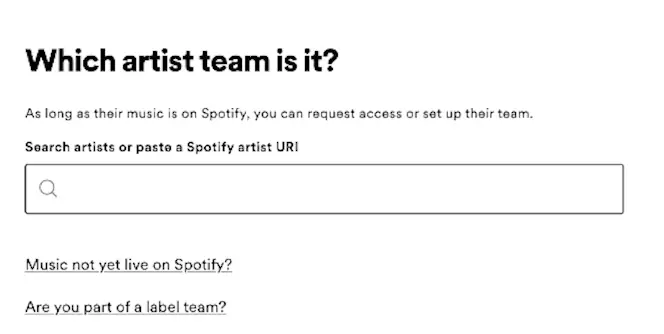 This next screen is what DistroKid gives you for every song before it comes out, this makes creating music marketing campaigns through Facebook ads super easy.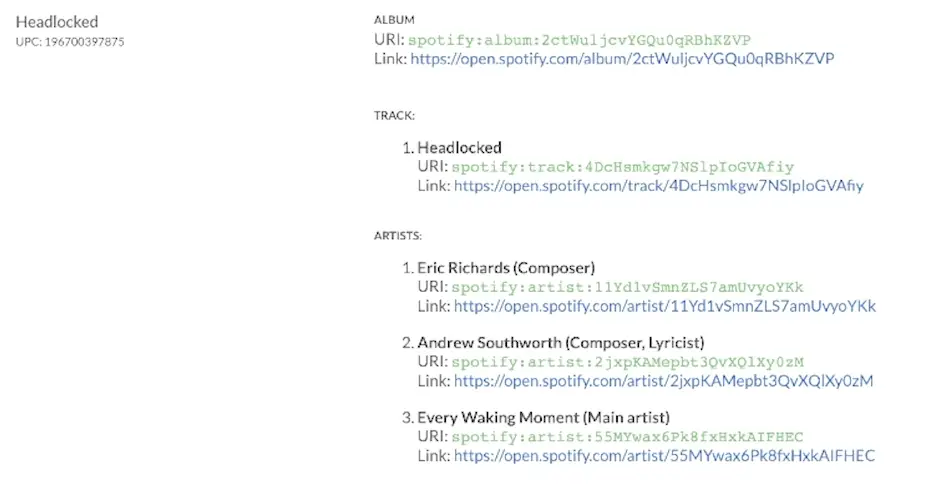 Once you submit this to Spotify you just have to wait. In my case in around 24 hours they sent me an email asking for the UPC code and title of the first release to prove I was indeed the owner.
Then a few hours later they gave me access to our Spotify for Artists account! At this point I was able to go in and add our profile picture, header image, biography, social media accounts and other images.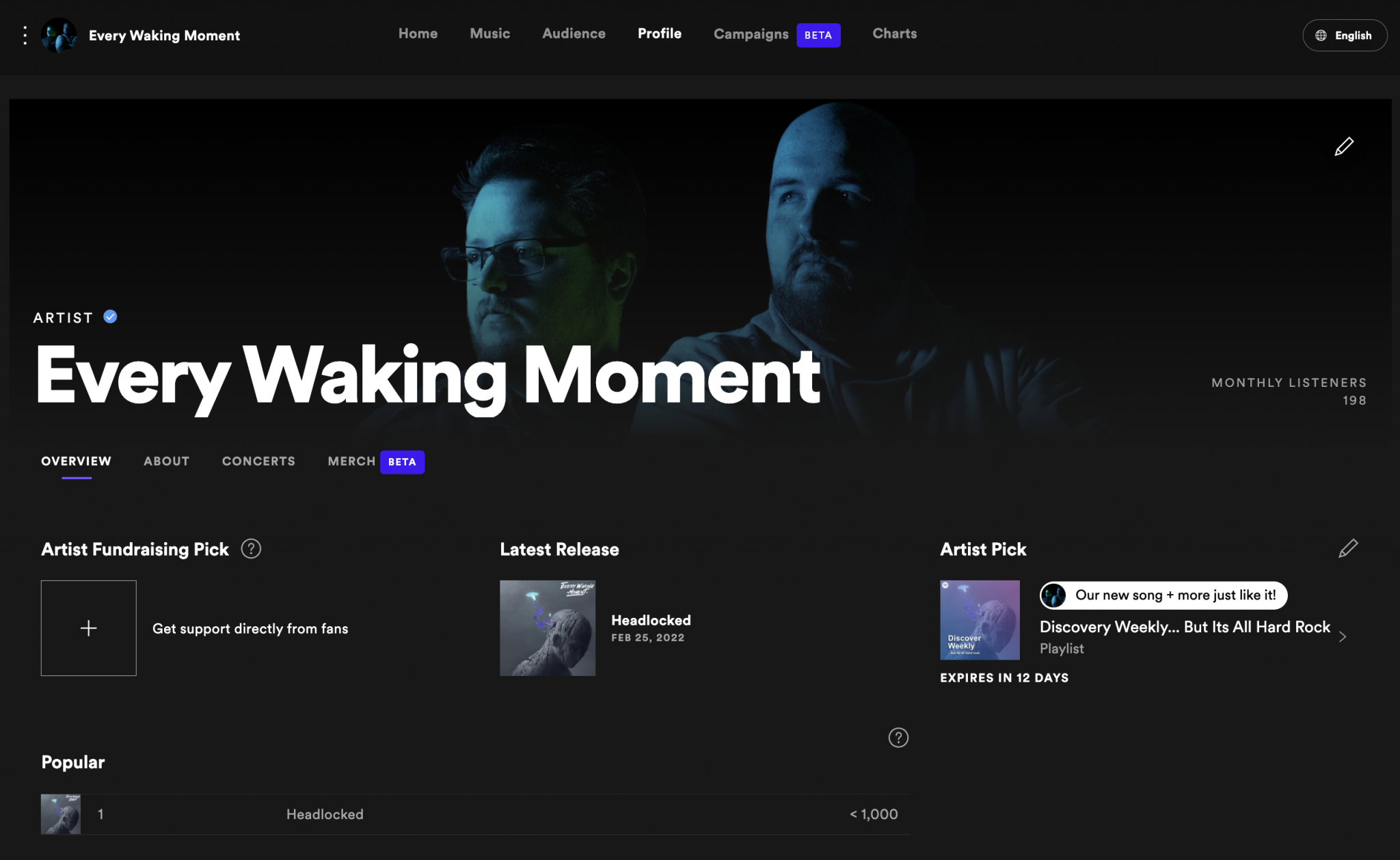 Then if you want to pitch your song to Spotify editorial playlists you can go to the 'Music' tab, choose Upcoming and then find your release to pitch to Spotify.
So now that you have access to Spotify for Artists, you might find it useful to understand how the live stream counter works. Thats right, Spotify has a way to track your stream data live for the first 7 days of release! Check it out here: https://musicgrowthmachine.com/spotify-for-artists-live-stats-not-working/