Spotify is once again introducing a new suite of tools that will have massive positive impacts for artists. Including short form Clips, release Countdowns, a new marketing tool called Showcase and more visibility to shows and merch. Let's take a look at it all!
Spotify Clips
Spotify Clips are short form, under 30 second vertical video clips directly on Spotify. Typically fans engage and learn more about artists on social media and then go to Spotify to listen, or they hear an artist for the first time on Spotify and go to social media to learn more about them. The problem is a lot of people get lost along the way.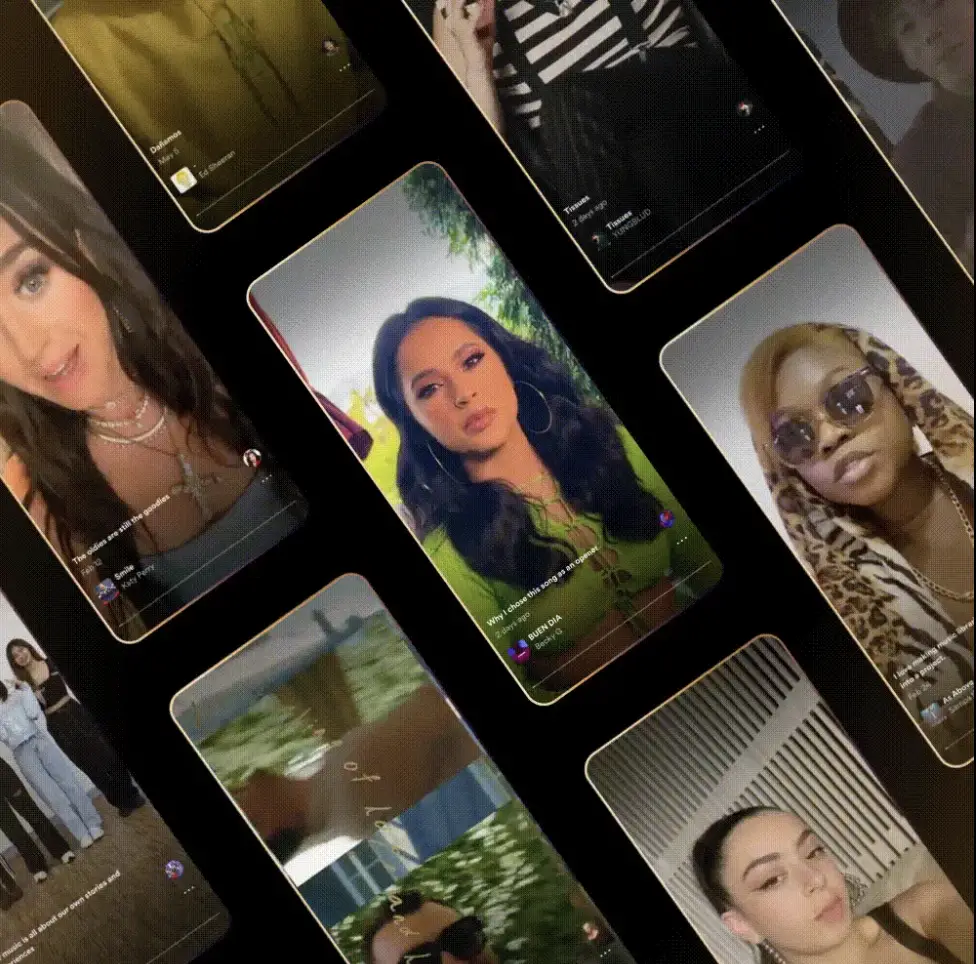 With Clips a fan can get music and content from their favorite artists in one place, and the focus is always on the music.
Funnily enough, i've had this Clips feature pop up inside my Spotify for Artists a few times over the past 6 months. I didn't post because anything because I had no idea what it did or what would happen, but I did play around with it.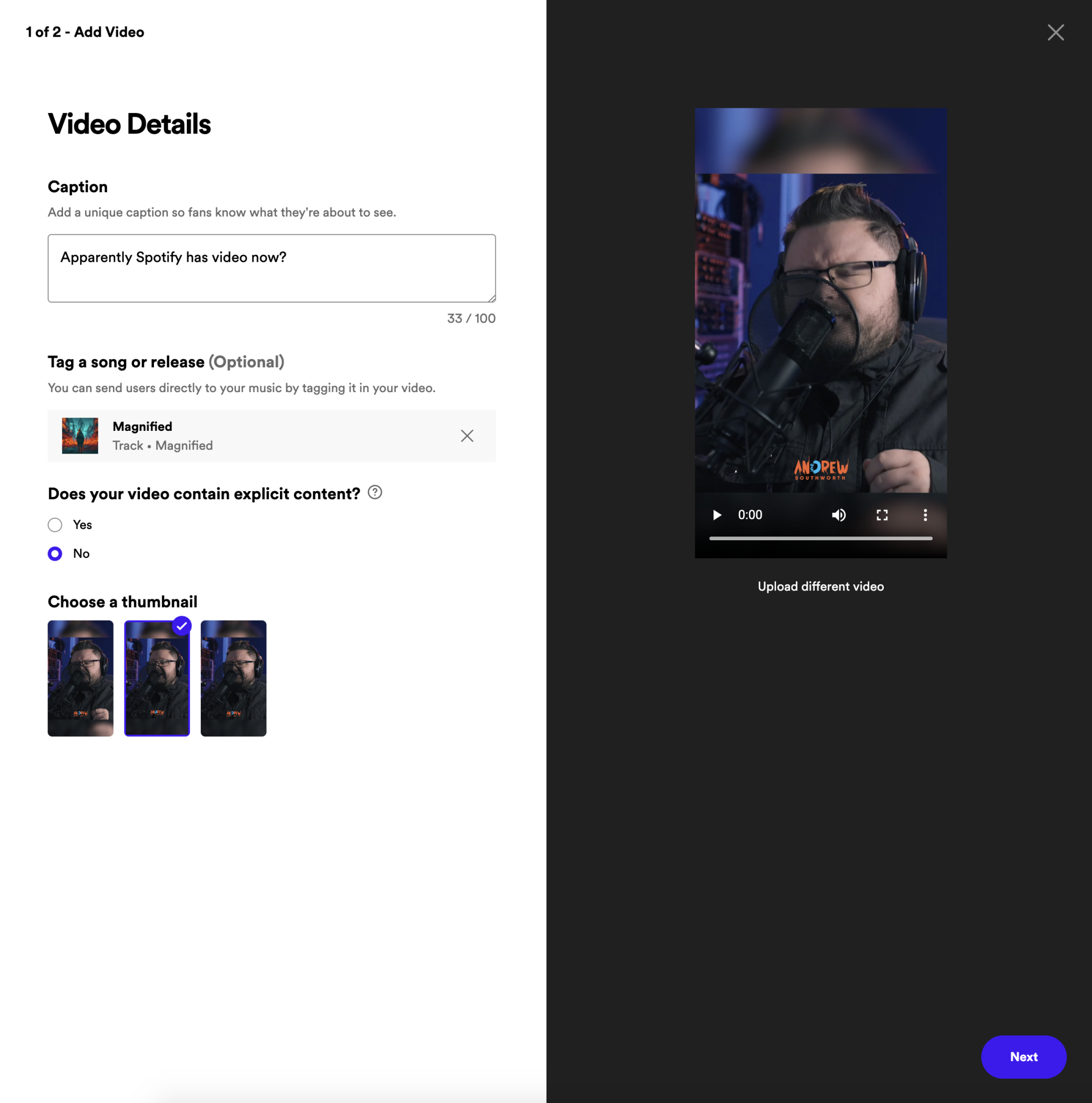 You can see that you can upload a video, give it a caption and tag the video to a specific song or release. To me it sounds really cool that as a fan is listening to a song they can opt to watch a clip directly from the artist to get more context. The fact that all posts are tied to music is very appealing to me.
Clips is currently in beta.
Spotify Countdown
Similar to Clips, Spotify Countdown is a tool designed to bridge the gap between social media and streaming. With Countdown Pages your fans can pre-save your upcoming release, preview the track list, pre-order new merch, watch new video Clips you share and watch the release timer count down to zero – all on Spotify.
If you're new to my world you might not realize that up until now, Spotify pre-saves actually didn't exist. I mean, they did exist, but Spotify had no real concept of them. Pre-saves were just a tool that music marketing companies invented and software companies used in their tools to help promote music – Spotify would never see the pre-saves, only saves on day 1 of the release.
It seems that now, pre-saves will actually be a native Spotify feature. Not only that, but Spotify will send fans that pre-save a push notification when the song is released.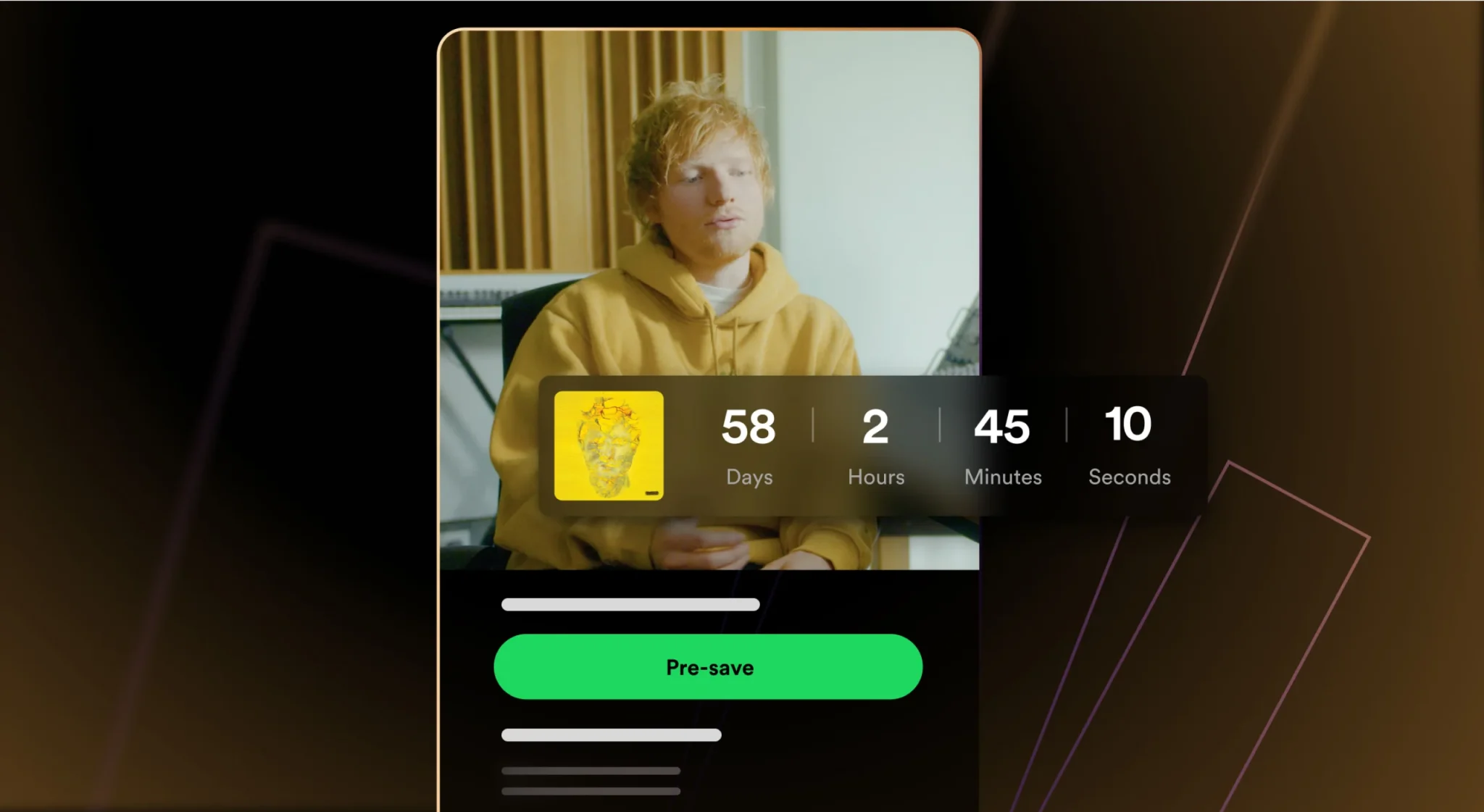 This alone is a massive win because pre-saves are a nightmare on Spotify, but being able to have a dedicated Countdown Page for your upcoming release with video clips and merch integration is amazing.
Spotify Showcase Marketing Tool
Spotify already has Marquee, a tool that allows artists to retarget listeners with a full-screen sponsored recommendation to check out their new release. They recently added Discovery Mode, a free music marketing tool that allows artists to increase their catalog's algorithmic reach in radio and autoplay placements on Spotify.
Now it seems Spotify is giving us something new to be excited about – Spotify Showcase.
Showcase appears as a mobile card on the Spotify Home page and will introduce an artist's music, whether a new release or an existing one, to likely listeners.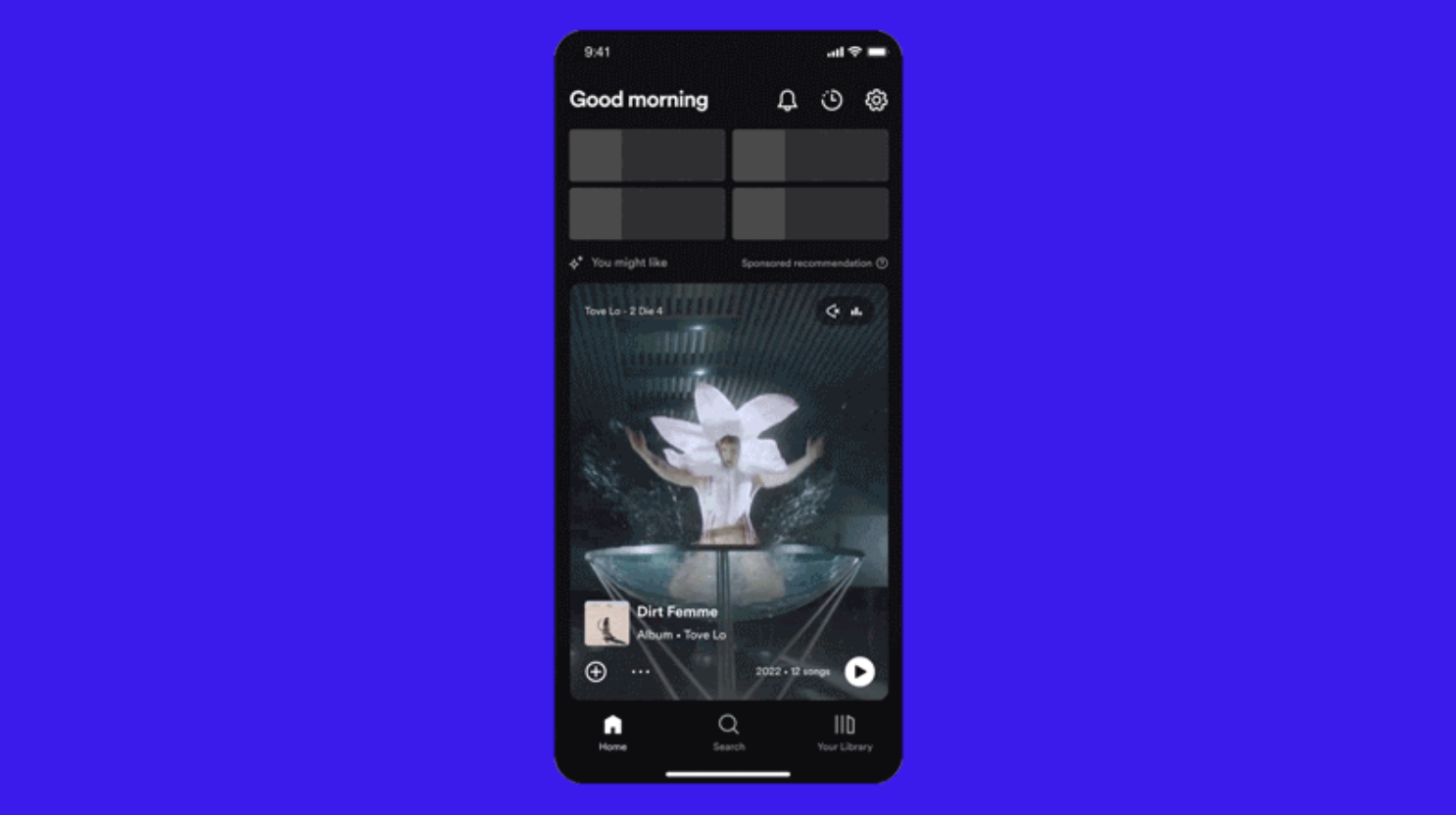 Showcase will appear for both Premium and Free users, just like Marquee. Unfortunately thats all we know about Showcase for now.
Marquee and Discovery Mode already have a nice home alongside Facebook conversion ads so hopefully Showcase ties nicely into everything us music marketers are already doing. Its pretty nice that you can use your ads to promote new releases while Discovery Mode slightly amplifies older tracks, and Marquee picks up on retargeting fans you acquired in previous Facebook ad or Discovery Mode campaigns.
Spotify has announced that they've expanded Marquee access to artist teams in Australia and U.K. which is a huge win, previously only artists in the US could run Marquee campaigns. Additionally artists using distributors DistroKid, CD Baby, Stem, Venice Music and Vydia now have access to Discovery Mode (by invite) directly in Spotify for Artists – labels can continue to access it through their team.
Make Money On Spotify
Last year Spotify introduced an integration with Shopify where artists could link their store directly to their Spotify profile. Additionally they integrated merch and live shows inside Spotify Wrapped 2022 for fans that got your music in their Wrapped.
Now artists can tag merch directly on the Now Playing view so fans can buy merch right while they're listening.
Additionally artists will now be able to put personalized concert listings on the app, and fans can bookmark shows on Home, Artist Pick, Now Playing and On Tour sections.
This is incredibly valuable because as we all know, streaming doesn't pay very well. However what streaming is great at is making it super easy for fans to discover and fall in love with new artists, and what do super fans do? They buy merch, they come to shows, they join your membership platform etc.
Spotify Home: A Dynamic Mobile Experience
Spotify is also redesigning their Home page. I know, this sounds stupid to talk about on a music marketing blog, but I think there are some awesome changes that artists should be aware of.
Visual & Audio Previews
It sounds like Spotify wants to turn their Home page into more of a TikTok-like or YouTube-like experience. As you scroll video Clips will autoplay and you can press on them to get an audio preview, then if you like what you hear/see you can click to keep watching right where you left off.
Faster Playlisting
Recently Spotify announced they would be getting rid of the heart button (oh no!). Saves aren't going away, they're just making it easier for listeners to save and playlist music they love. Instead of having the ability to add songs to a playlist be buried in a menu, the new 'plus button' serves as both 'save' and 'add to playlist'. Learn more about that here.
New Feeds For Discovery
When people search for music they'll now see Canvas clips from tracks in some of their favorite genres. They can easily save the song, add it to a playlist, follow the artist or share the song. They can also use hashtags within the feed to explore related genres and find new music. Playlists like Discover Weekly, Release Radar, New Music Friday and RapCaviar will also be getting audio previews for fans to explore top tracks quickly.
Spotify is emphasizing that despite all of these new features they're still placing precedence on Favorites, Shortcuts, Recently Player etc. at the top of the Home page to not degrade the user experience. This is about making it easier for fans that want to explore to find new music, not about making it harder for people to listen to what they know they want to hear.
Spotify DJ AI
AI has been taking the world by storm with tools like Midjourney, DALL-E and ChatGPT, but Spotify also has it's own AI DJ for Premium users in US and Canada. Spotify is using its personalization technology to give you a lineup of music recommendations based on your listening and engagement habits on the app.
They even have an AI voice based on Xavier 'X' Jernigan, to tie the experience together. The voice ties together the music alongside short commentary to provide some context behind what you're hearing. I haven't used this feature yet but the video below shows some promise.
Learn More
I made a video going through all of these features, check it out!
If you're looking for how you can promote your music on Spotify and other streaming services, and how i've generated over 5 million Spotify streams and 14,000 followers on my own music check out my course Spotify Growth Machine!
Facebook conversion campaigns are one of the most effective ways to promote your music online. It gives you save rates of 50+%, repeat listen rates of 2X-3X on average, and a follow rate of 5-10%. With as little as $10/day in ad spend you can start making significant impact to your Spotify growth.
If you prefer 1-on-1 help my team also offers 1-hour Zoom calls. You can check pricing and availability here.