What kind of results can you expect from SubmitHub and PlaylistPush, and how do they compare? In this post i'm going to go over both platforms, how much they cost, how they work and the results of a $600 experiment I ran across both.
I've ran dozens of campaigns on SubmitHub and 3 with PlaylistPush so I hope I can give you some valuable insight on these platforms.
SubmitHub Overview
SubmitHub is a platform that connects music artists to music curators. This includes Spotify playlist owners, blog owners, social media influencers, YouTube music channels and more. It operates similar to something like Ebay where you can research and shop individual curators on the platform (this is an important distinction from PlaylistPush).
They provide a streamlined way to easily submit your music to multiple outlets, sort them by platform, genre, cost and more, and provides the curator a streamlined way to organize submissions and make some small money in the process.
SubmitHub costs anywhere from $1-$3 per submission depending on the curator and how many credits you buy at a time. Some curators require 1 credit per submission and others require 3, and credits can be purchased in small amounts for about $1 per credit or larger amounts for $0.80 per credit. If you want you can choose to only submit to one curator if you desire, or you can submit to dozens at a time.
For curators to get paid they either have to approve your song and share it to their platform, or reject it with feedback telling you why they won't be adding it. They also have an option where you can choose to make them listen for 90 seconds instead of receiving feedback, but I wouldn't recommend that. They have 48 hours to accept or deny your song before it expires, at that point you get refunded the credits.
SubmitHub does offer a free credit system as well with some limitations.
Check out this video I made going over how to best utilize SubmitHub. The platform has changed since filming this video but all the principles still apply.
I also interviewed Jason Grishkoff, the founder of SubmitHub. We talked about how artists can best utilize the platform, why he created it in the first place and what place SubmitHub has in an artist's marketing strategy.
PlaylistPush Overview
PlaylistPush is a platform that connects music artists with Spotify playlist curators. They focus specifically on Spotify playlists, and their approach is significantly more automated than SubmitHub. Instead of individually choosing curators you identify a selection of music genres and similar artists to the song you're submitting, choose how much money you want to spend and submit the campaign.
It operates on a similar feedback model to SubmitHub where curators must either accept or song or deny it with feedback. Instead of a 48 hour window they operate on a 14 day window. Curators are incentivized to reply in that window but if they don't, you don't get refunded.
You don't have to spend time researching curators to submit to, they handle that based on the genre selections you enter when you book the campaign. Curator's playlists are matched using the Spotify API genres, they don't allow curators to self define the genre of their playlist. Minimum budgets are around $300 depending on the genre of music.
Recently PlaylistPush has added a TikTok influencer campaign option but I haven't tested that out yet.
$600 PlaylistPush & SubmitHub Experiment
Now for the cold hard data. I spent $523 on PlaylistPush and $34.40 on SubmitHub. Here's the PlaylistPush data:

What i've done here is listed all the individual playlists my song was added to, the number of streams I received from each playlist, the number of followers the playlist had, and the ratio of streams to followers from each playlist. Then at the bottom I calculated total streams, total followers, average stream / follower percentage and the cost / stream.
The purpose of Stream / Follower (S/F) is to have a general gauge of quality. A higher S/F means the playlist is more engaged, meaning it gets more streams per follower on the playlist. If a playlist has a million followers it means nothing if nobody listens to it anymore.
For PlaylistPush you can see that the S/F was 3.3% and the Cost / Stream was $0.061 or 6.1 cents per stream.
Now lets look at the SubmitHub data: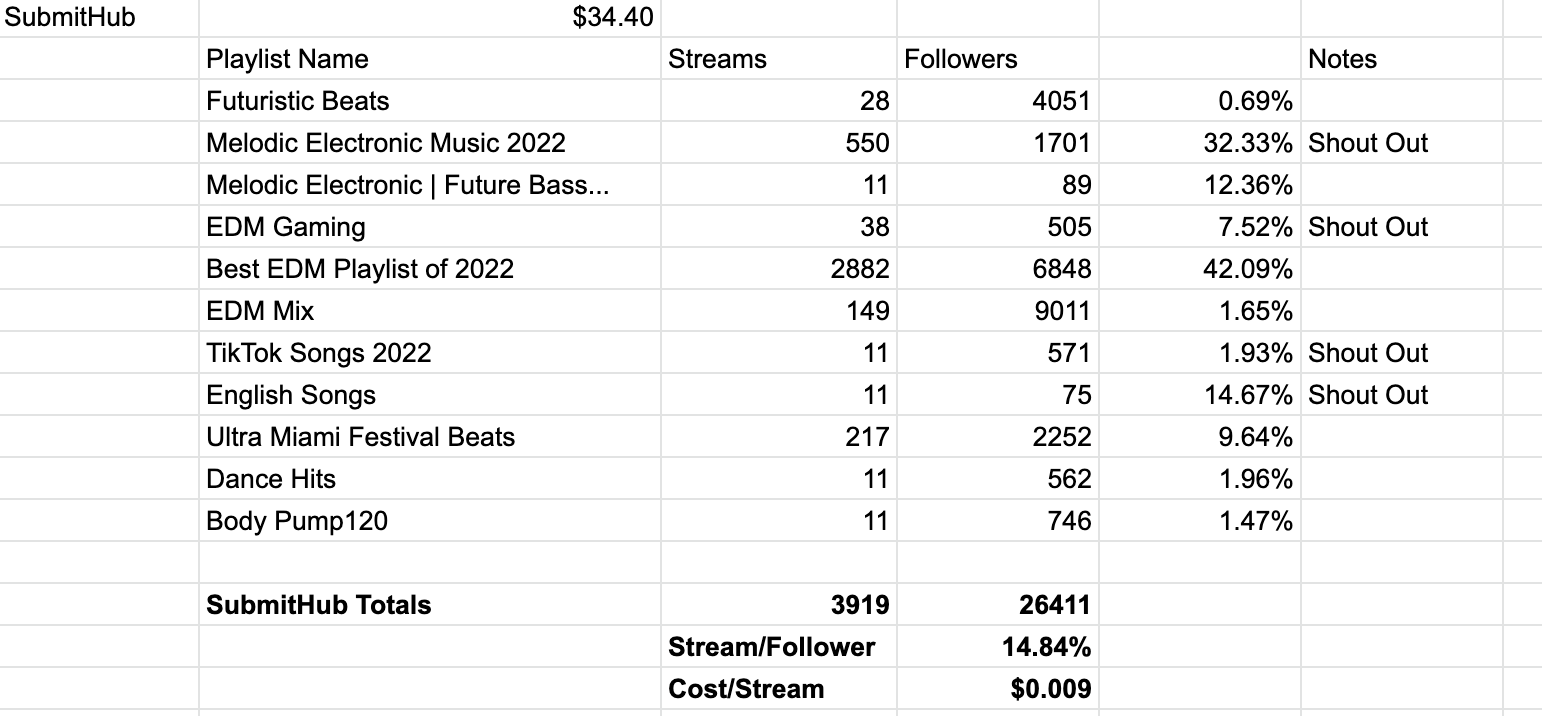 I pulled the exact same data from SubmitHub. Each playlist, streams, followers, S/F, total streams, average S/F and cost / stream.
In this case SubmitHub had a 14.8% S/F, meaning the playlists were almost 5X more engaged than the playlists I was added to on PlaylistPush.
SubmitHub also had a cheaper cost per stream at $0.009, or 0.9 cents per stream.
If you want to see the full story including me showing you how I pitched my songs on SubmitHub, how I setup the PlaylistPush campaign and some analysis of these results check out this YouTube video I made on this topic.

SubmitHub vs Playlist Push
The results from this experiment are pretty clear – SubmitHub is a much more effective use of your music marketing budget when it comes to getting Spotify streams (about 9X more effective than PlaylistPush). However its a bit more nuanced for a few reasons…
SubmitHub generally requires a lot more work as you have to choose individual curators to pitch to. For indie artists with lots of time but low budgets, this is a no-brainer. However for labels, management or larger artists often time is your most expensive and precious resource. So depending on your situation you may not care as much about the cost if it helps you reach your goals. PlaylistPush also generates you a nice report for your campaign that can even give you streaming numbers if you give them access to Spotify for Artists.
Another factor is the genre and specific curators on each platform. SubmitHub and PlaylistPush definitely have plenty of overlap, in fact one of the playlists I got added to accepted the songs on both platforms. However there are definitely curators who are only on one or the other, and each seems to have its own genre swing.
If you have a very commercial sound where there are a lot of playlists to choose from, PlaylistPush may actually perform better due to the larger playlists – i've seen artists get great results over there. If you have a more nuanced sound you may need the ability to parse through individual curators to make sure they actually have a playlist that suites you. In either case most metal genres don't work well on either platforms due to the small number of playlists.
Personally I recommend SubmitHub over PlaylistPush to all my friends and clients, unless they have a massive budget and no free time. Also I personally use SubmitHub much more.
In general I don't recommend anyone relies on Spotify playlisting for their entire marketing campaign, it just doesn't provide the long term growth most artists are looking for. While playlisting can provide a very cheap cost / stream in the short term, long term its pretty bad at causing algorithmic playlist growth, follower growth and stability in monthly listeners.
I spend most of my Spotify marketing budget on Facebook ads, and you can check out this article to see exactly how I run those campaigns.
If you want to learn how i've used Facebook ads to generate well over 100 million streams on Spotify alone, check out my course Spotify Growth Machine.