Indie Music Academy is largely a music marketing education company, but aside from their courses they also offer both Spotify and TikTok promotion services. In this post i'm going to talk about my experience testing out their Spotify playlist music promotion service.
Spotify playlisting is one of the most risky forms of music promotion because you never know how the company grew their playlists. Even if you have the data it can be hard to know for sure if it's legit. So is Indie Music Academy's Spotify playlist service safe and legit?
Yes, from everything i've seen in the campaign I ran I feel Indie Music Academy's Spotify playlist service is safe and completely legit.
It's impossible to know for sure and i'll explain why later in this post, but i'll be walking you through the data and explaining why I believe they're a legit operation that provides exactly what they promise.
Learn more about Indie Music Academy's Spotify promotion packages here.
How This Indie Music Academy Review Happened
I've known Indie Music Academy founder Ryan Waczek for a few years now. Back in 2021 I had a few calls with Tommy Zee, and interviewed him on my channel, and he introduced Ryan and I via email. Ryan and I had a few calls and since we're both YouTubers in the music marketing niche, we had a LOT to talk about.
Ryan and I did an interview video on my channel and we worked together in a few different ways. But eventually during one of our chats I asked him about his Spotify playlist service. He explained how it worked behind the scenes and we hopped on a call with a few people on his team.
If you know me at all, you'll know i'm pretty cynical when it comes to Spotify playlist services. Previously I reviewed Moonstrive Media because it came with a recommendation from someone I trust. This one was very similar – I trust that Ryan wouldn't put his brand name on something that wasn't 100% legit.
So, he gave me a free campaign to trial the service and make some content about it. No strings attached.
How Indie Music Academy Playlisting Works
Indie Music Academy utilizes SEO playlisting, but they do this through a playlist network. SEO is short for search engine optimization, which just means these playlists either rank on Spotify for certain keywords or actually rank on Google for certain keywords. Their team has spent the past several years cultivating relationships with playlist owners with SEO-grown playlists and keeping only the very best along the way.
Here's a summary of how it works when a campaign is ordered:
The order is forwarded to the playlisting team
They check out the song and ensure it meets their quality standards, and determine which genre, vibe or mood it falls into
Looking at their database of curators, they match the song to certain playlists and contact the playlist owners to see if they'd be willing to share the song on their list
They hire those playlist owners to add the song to the playlist and keep it on there for a certain duration of time
If your song doesn't meet their quality standard they refund your money. If they can't fulfill your order they issue either a full or partial refund depending on what they can fulfill.
They don't just guarantee that they'll get your music on these playlists though. They actually guarantee a certain number of streams. At first glance this can sound sketchy, but behind the scenes they know exactly how many weekly streams each playlist gets at certain positions in the playlist. Additionally they have access to Spotify for Artist data for many of the songs across the network.
Indie Music Academy Campaign Creation
Purchasing a campaign with Indie Music Academy is super easy. They offer a handful of packages ranging from $297 to $1950. Packages are sold by 'Guaranteed stream count' ranging from 10,000 to 100,000 streams.
Additionally you supply your Spotify track URL (or a private streaming link if its unreleased), the release date, the Title and Artist Name for the song and the Spotify artist URL. After that they'll notify you when placements are made!
Indie Music Academy Spotify Campaign Results
I chose to use my song 'Dreaming' because its been out for a while, had dropped lower in my Spotify for Artists results and didn't have any other form of promotion going on it. It had also been placed in the Bass Arcade Spotify Editorial playlist a few years back so I know its a solid song with good playlist appeal, and it would be interesting to compare engagement rates.
If you want to see all this data in video form, check out my YouTube video on this campaign:
The thought process was that I wanted to make it as easy and clear as possible to see exactly what was coming from Indie Music Academy. First, lets take a look at streams…
I plotted a little bit before and after the campaign so you can see not only the campaign, but the impact Indie Music Academy's playlist service had on average daily streams when the campaign was over. You can see about 50 daily streams before-hand happening organically until late February when it jumps up to nearly 2,000 streams per day. Then 5 weeks later it goes almost all the way back down, in this case to 100 streams per day.
This is typical of all playlisting, including Spotify editorial playlists. The good news is that my daily stream count on this song went from 50 to 100, which shows some people actually stuck around.
Now lets look at saves…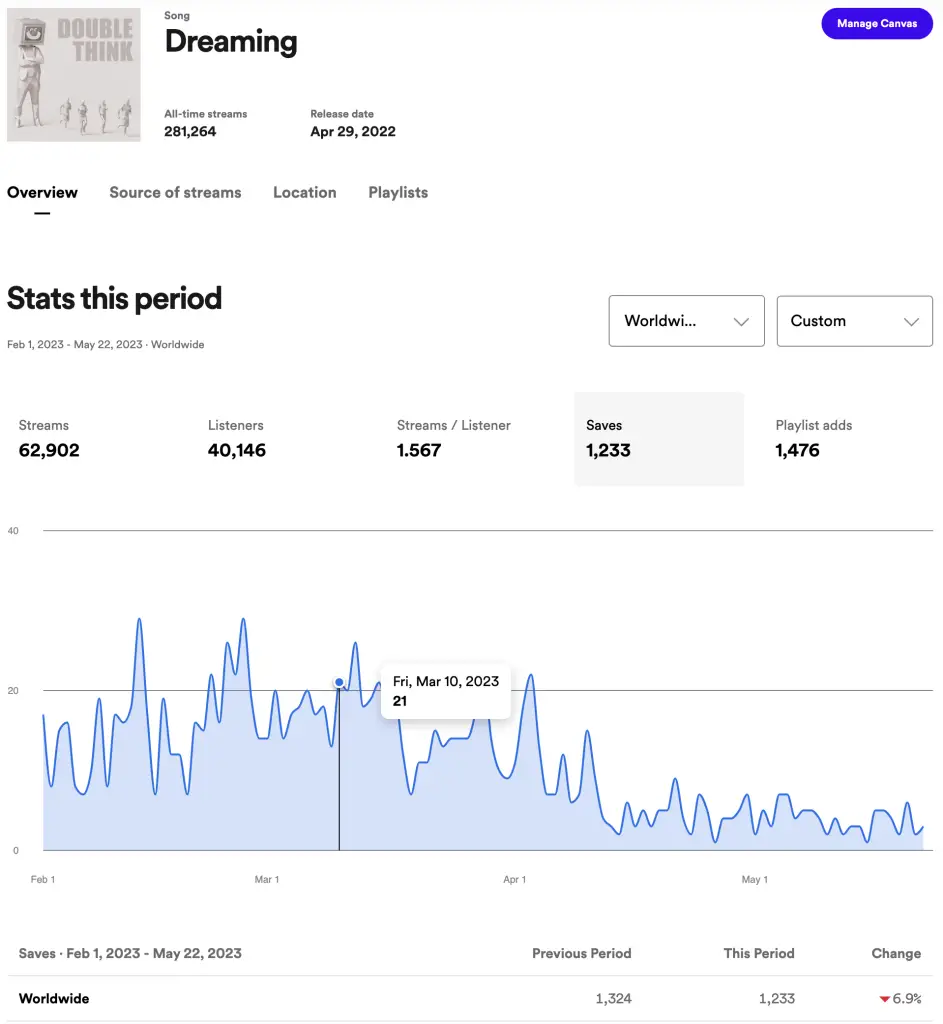 As you can see, pretty much no change at all. This is also super typical of playlisting. Facebook ads typically have a save rate of over 50%, but playlists often have save rates of 5%. For playlisting one tell-tale sign that a company is running bots, is if the save rate is too good. Playlists should have a bad save rate because its passive listening, if the save rate is very high it means something sketchy is going on.
Interestingly though, the playlist adds tell a different story…
I did some rough math and it seems like my song was added to nearly 700 user playlists during the campaign. This is a good sign because it means people liked the song enough to add it to their own personal playlists. However it isn't so high where it makes me question anything, since 700 playlist adds is small compared to the 36,000 listeners I received from these playlists.
In addition to Spotify for artist metrics I also vetted these playlists on Artist.Tools, a site that tracks playlist growth over time and estimates their streaming volume and safety (along with finding contact information for playlists). It isn't a perfect tool but it is an additional data point (get a 10% discount here). Here is one of the playlists: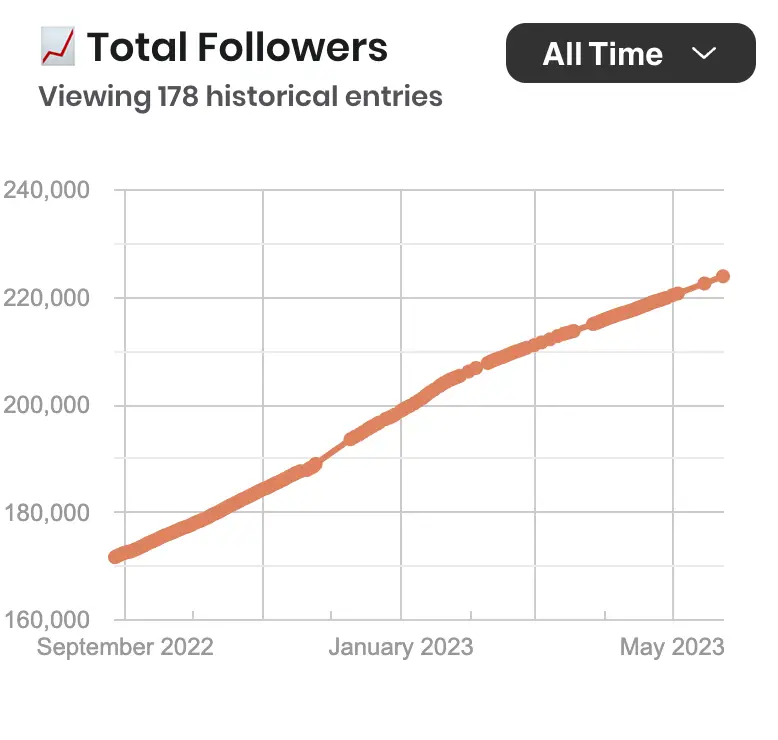 This is the follower growth over the past 8 months. Some playlists have more data, but over this period of time we see consistent growth with no weird jumps or drops.
Before we get into the detailed metrics I want to point out the countries. There was definitely a strong presence in the USA but not so high where it raised any red flags. I saw a rise in streams across at least 10 countries I checked, and the top cities during the campaign were typical large cities and not sketchy bot cities.
Learn more about Indie Music Academy's Spotify promotion packages here.
Playlist Metrics
I made a spreadsheet to organize the total follower count, streams, listeners, streams per listener, listeners per follower and playlist spot for the 4 playlists I was added to from this campaign.
| | | | | | | |
| --- | --- | --- | --- | --- | --- | --- |
| Playlist | Followers | Streams | Listeners | Str / List | List / Follower | Playlist Spot |
| EDM Music | 223239 | 19469 | 12954 | 1.5 | 5.80% | 88 |
| Electronica | 137706 | 16687 | 13212 | 1.3 | 9.59% | 94 |
| Chillstep | 39741 | 12246 | 7686 | 1.6 | 19.34% | 17 |
| Best Beat Drops | 33025 | 3186 | 2586 | 1.2 | 7.83% | 42 |
| | | | | | | |
| | | Total | Total | Avg | Avg | Avg |
| Total | 433711 | 51588 | 36438 | 1.415774741 | 8.40% | 60.25 |
| Cost | $1,050 | | | | | |
| Cost / Stream | $0.020 | | | | | |
| Revenue | $180.56 | | | | | |
Streams per listener is a decent indicator of quality because it shows on average how many times people are listening to the song on the playlist. If people listen to the playlist multiple times, it must be a decently good playlist. The higher this number the better, but it will generally never been too high.
Listeners per follower is another quality indicator because it shows how active the followers are on the playlist. A playlist is no good if less than 1% of the audience listens to it anymore.
I calculated those metrics for each playlist individually but also as an average across all 4. Then at the bottom I calculate the average cost per stream, and the revenue in Spotify royalties the streams generated. This campaign would end up costing about 2 cents per stream.
Just for a fun comparison, since this song was also added to Spotify's editorial playlist 'Bass Arcade', I could compare Indie Music Academy's playlists to that…
| | | | | | |
| --- | --- | --- | --- | --- | --- |
| Playlist | Followers | Streams | Listeners | Str / List | List / Follower |
| Bass Arcade | 965740 | 45191 | 32898 | 1.373670132 | 3.41% |
As you can see, Indie Music Academy wins in both streams per listener and listeners per follower. This means their playlists are more engaged than one of Spotify's best EDM editorial playlists.
Indie Music Academy Spotify Playlist Conclusion
Overall if you're looking for Spotify playlisting for your music, Indie Music Academy is a service I would recommend. The data appears to be genuinely organic and doesn't show any signs of bot activity. While it's impossible to know for sure the diverse country / citiy spread, the typical save rates and respectable playlist add rates imply that they are a genuine and safe-to-use Spotify playlisting company.
I've recommended their service to friends and clients of mine already and I wouldn't do that unless I felt it was legit. I wouldn't have used it on my own music if I didn't know Ryan personally either, and i'm very happy that his service checks all the boxes.
Keep in mind that it has all the pro's and con's of Spotify playlist services, but you are getting what you pay for with them.
Learn more about Indie Music Academy's Spotify promotion packages here.
When Should You Use Spotify Playlist Services?
I thought it would be good to add a section on when you should use Spotify playlisting services. Many artists assume they should use them the moment their song releases. Other people will dump their entire music marketing budget into Spotify playlists. I think both of these situations are a mistake.
Spotify playlists don't really grow your fanbase, meaning people aren't saving the song or following your profile. What they do provide is a consistent bump in streaming activity for a limited period of time. This can be useful when trying to trigger algorithmic playlists in certain situations.
In my experience Spotify playlists are best used after your song is already riding the algorithm, when Spotify understands who your music is for. You drop your song and start your Facebook ad campaigns and organic strategy from day 1. Once you start seeing Discover Weekly and Radio taking off in significant volumes you drop in the playlists.
The exact ratio of playlists is hard to decide, but I recommend keeping playlisting down to less than 20% of your monthly stream count on the song at most. This means for most people you shouldn't use Spotify playlists unless you have a pretty nice budget for your song, or if you're an artist already getting some decent volume.
There are other applications for when Spotify playlists are useful, such as increasing your numbers before label or tour negotiations. But many artists are using them too soon I think.