Feature.fm is a music marketing service provider that provides tools for people to market their music more effectively. They have a diverse selection of tools that may be useful to you as a music marketer and we're going to cover them all in this article.
Feature FM's services can be broken up into two general categories:
Link services
Direct marketing services
I'll be going over the features that Feature FM provides, my opinion / review of their platform and some comparisons to competitors in these areas. Feature FM did not sponsor this post or any other content by me, but in full transparency they did give me a free account and an affiliate link.
If at any point while reading this article you want to try Feature FM, use coupon code ASOUTH30 for 30% off any annual plan at this link: https://feature.fm/andrewsouthworth
You can also sign up for a free account to get a feel for their site.
Feature FM Link Services
To me this is the most useful aspect of Feature FM. Every music artist at some point will want to link to their new song, make pre-save links, or have a link-in-bio on social media. Feature FM has tools for each of those use cases.
Even inside Feature FM's link services there are a few sub-categories worth talking about. These are Smart Links / Pre-Saves, Action pages and Bio Links.
Smart Links / Pre-Saves
Smart links are pages that combine multiple streaming / download / purchase options for a song onto one page. Typically a smart link will also incorporate some type of music marketing pixel tracking, and some type of analytics platform to see where people are going. Feature FM provides all of these options in a really elegant way for their smart links.
In this category Feature FM directly competes with companies like Hypeddit, ToneDen and LinkFire. Towards the bottom of this article i'll be comparing Feature FM to other options to help you see if its the right option for you.
Here's an example of Feature FM's smart link pages.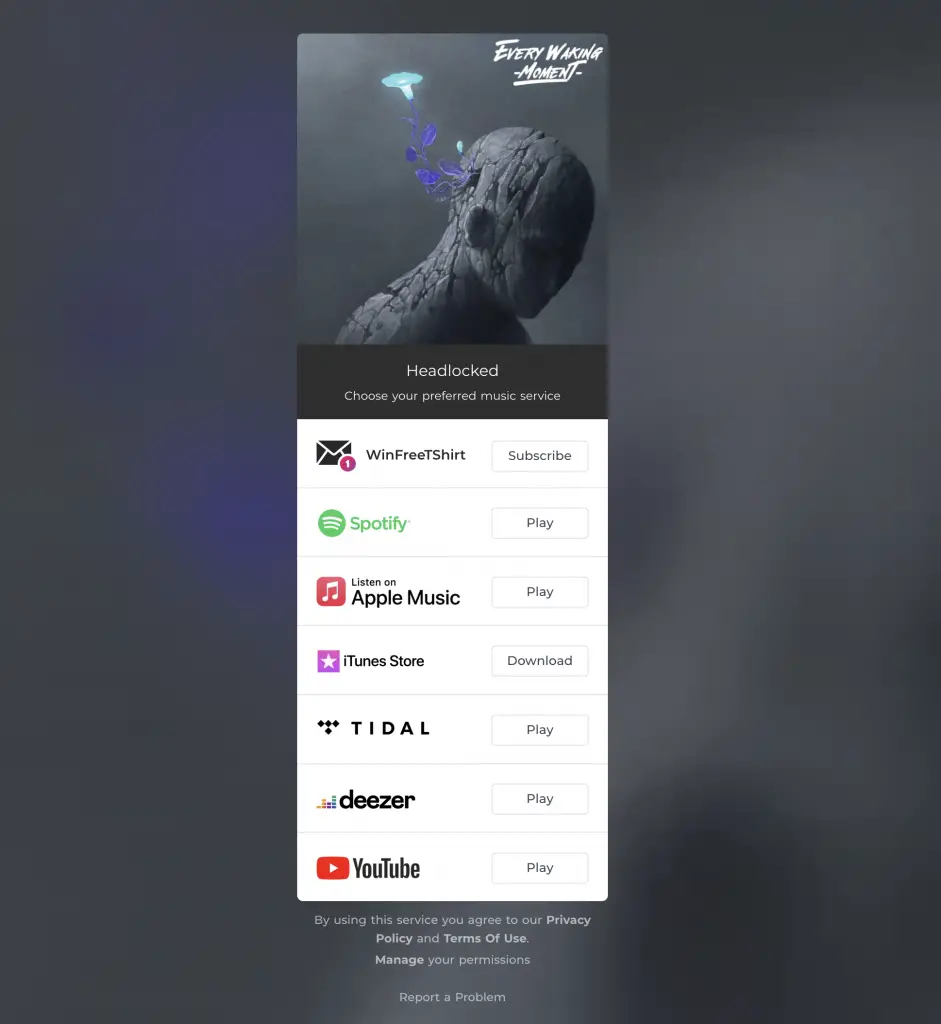 Smart links like this provide a single link I can send people to for them to listen to the song wherever they prefer. I can even collect email subscriptions directly on the page. When it comes to pre-save links, these work in the exact same way except instead of 'Play' these buttons would have pre-save.
You can pretty easily customize these pages, add new streaming platforms, change the links for each streaming platform, change the order of links or link to a custom website. This is what the back-end of the link creation for smart links looks like in Feature FM.
Here are some more features when it comes to Feature FM's smart links:
You can send returning visitors to their preferred service automatically
You can install a Facebook Pixel, Google Pixel, TikTok Pixel, SnapChat Pixel and more onto the page for data tracking and remarketing
You can customize the parameters that get sent to Facebook to make your remarketing campaigns more easy to separate by audience
The page can have custom artwork different from the song artwork, text can be customized as well
You can add or disable an audience preview for the song
You can customize how this link appears on social media sites when its shared
You can make these pages for unreleased songs and they'll start as a pre-save link but go live to a smart link upon release
One of my favorite aspects of Feature FM is the analytics they give you on the backend. First of all, when you share your Feature FM link you can choose which platform you're placing the link on, and they'll separate the analytics for each platform individually in your analytics.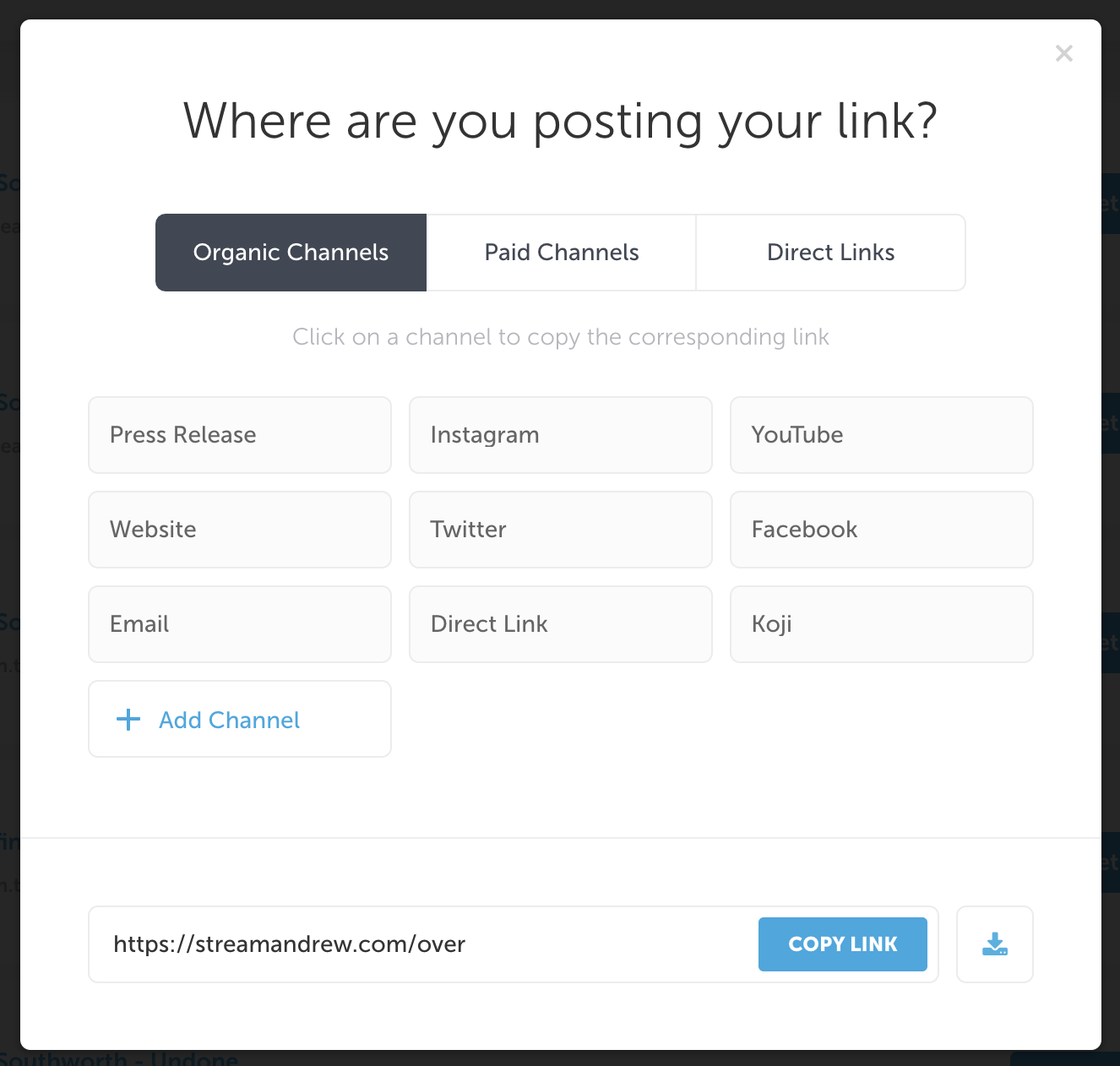 This makes it super easy to see where people are clicking on your song from, how often they visit the page and how often they convert to a music service. Check it out:
You can choose a custom date range of data to see, and both page visits and clicks to services are plotted so you can see day-by-day breakdowns of how your link is performing.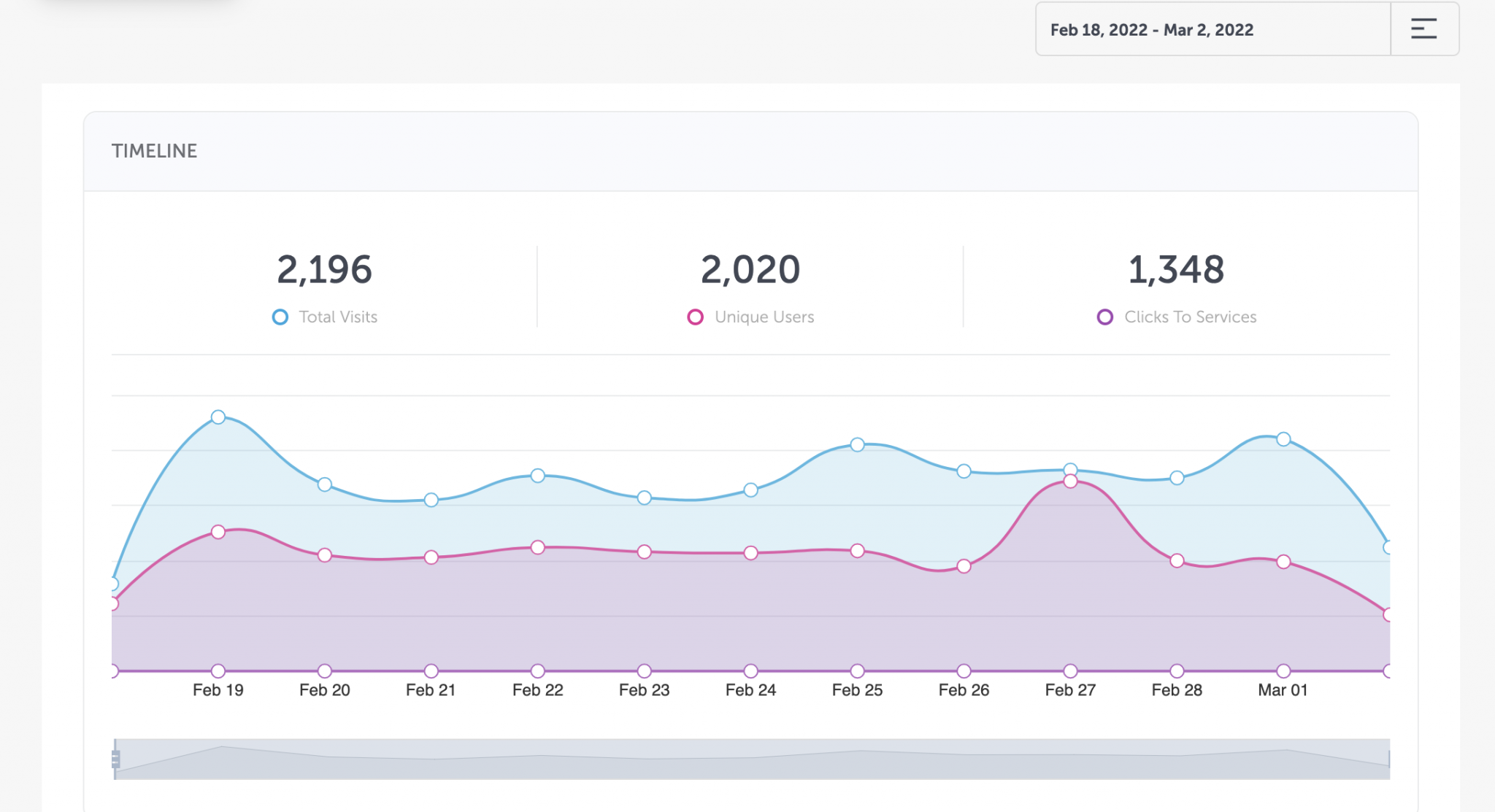 You can also see which services people are going to.
Lastly you can see country by country the number of page visits and clicks to services. This part is incredible useful for Facebook conversion ads because ever since iOS14 we haven't had country breakdown data on Facebook ads.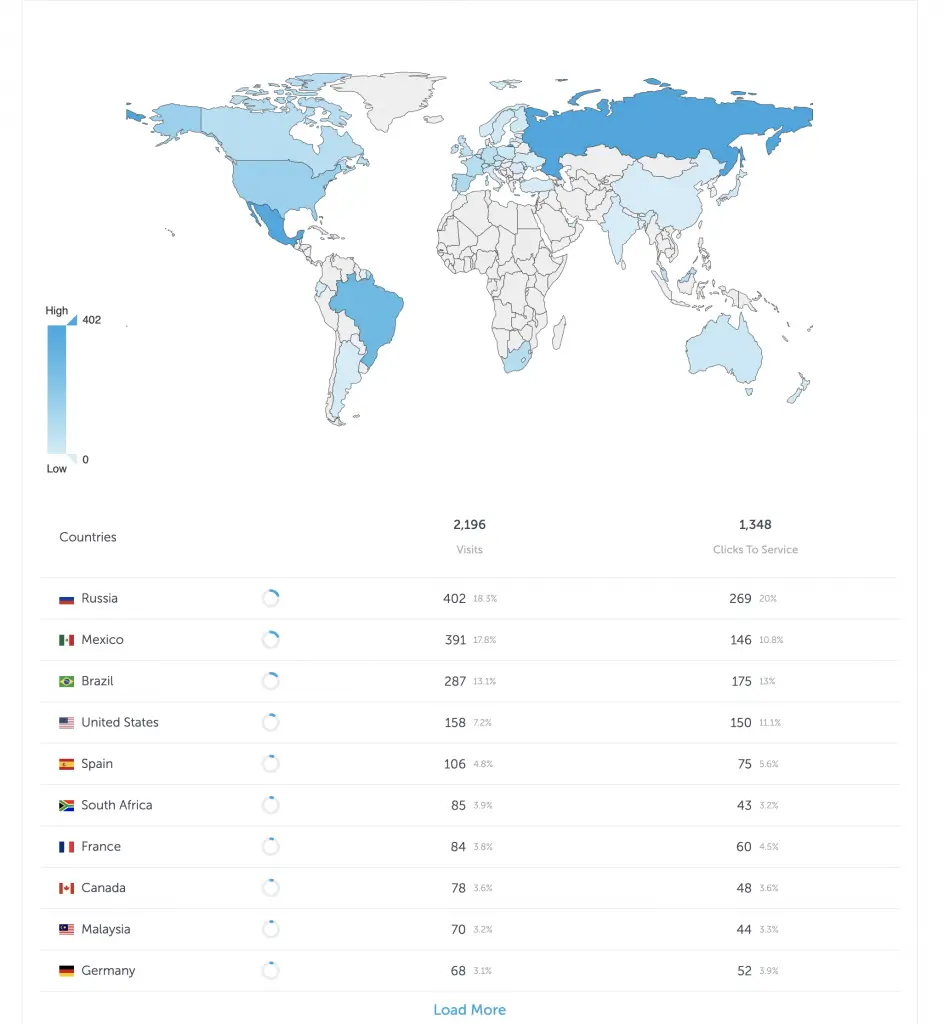 At least as of right now, their smart link service is my favorite out of all the ones i've tried. The platform specific links, the detailed analytics and the super fast speed of their landing pages are fantastic.
I made a YouTube video going over Feature FM as well:
Other Links
Contained inside their Smart Link category there are actually even more link options in addition to smart links and pre-save links.
Tour links
Podcast links
Short links
Tour links allow you to make a smart link for your tour, and it will link to your event on BandsInTown but deep link to the ticketing website (very cool).
Podcast links are essentially just regular smart links but for podcasts.
Short links is your standard link shortener, getting a really long link and making it really short. This is useful if you have to put a link on Twitter or even in your YouTube descriptions and you don't like how it looks being long.
Action Pages
Action pages are 'kind of' like Hypeddit's link gates feature. Basically you propose an action you want a fan to take, such as a pre-save or follow on Spotify, and when they take that action you can send them to a custom URL to get something in return – perhaps an exclusive video or a coupon code.
Feature FM doesn't support download gates (like Hypeddit or ToneDen) but you could use this as a download gate if you link someone to a private song download page.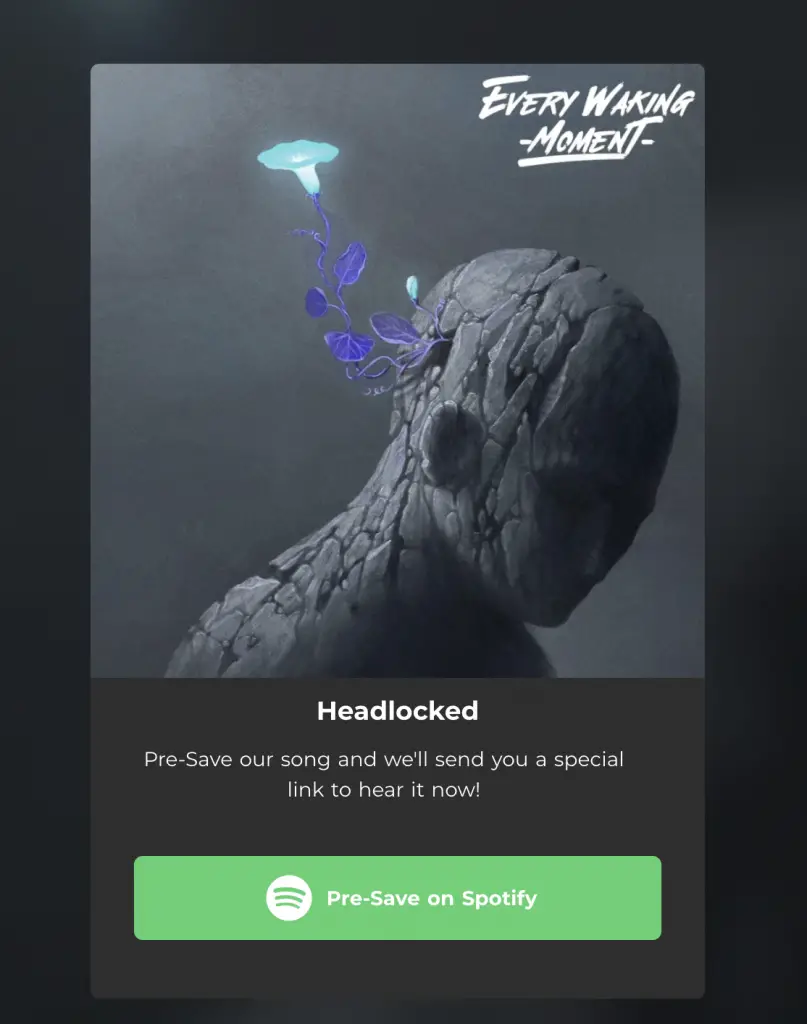 You can choose from various actions on Spotify, Apple Music and YouTube, but you can also collect email addresses and/or have them follow you automatically. If you want to send them to a custom URL to give them something in return for their support you can do that as well. There is also support for multiple actions on a single action page – perhaps the equivalent action for Spotify and Apple Music so people can choose.
All the analytics data for Action Pages is just as good as the smart link pages.
Bio Links
Feature FM also supports their own custom link-in-bio service. So if you were paying for something like LinkTree you can cancel that and use Feature FM's instead.
You can link to anything you want just like a normal link-in-bio, but they've added the ability to directly integrate to your smart links, action links, email signups and more. So if you have links created in other places on Feature FM you can just add them via a drop-down menu – its pretty seamless!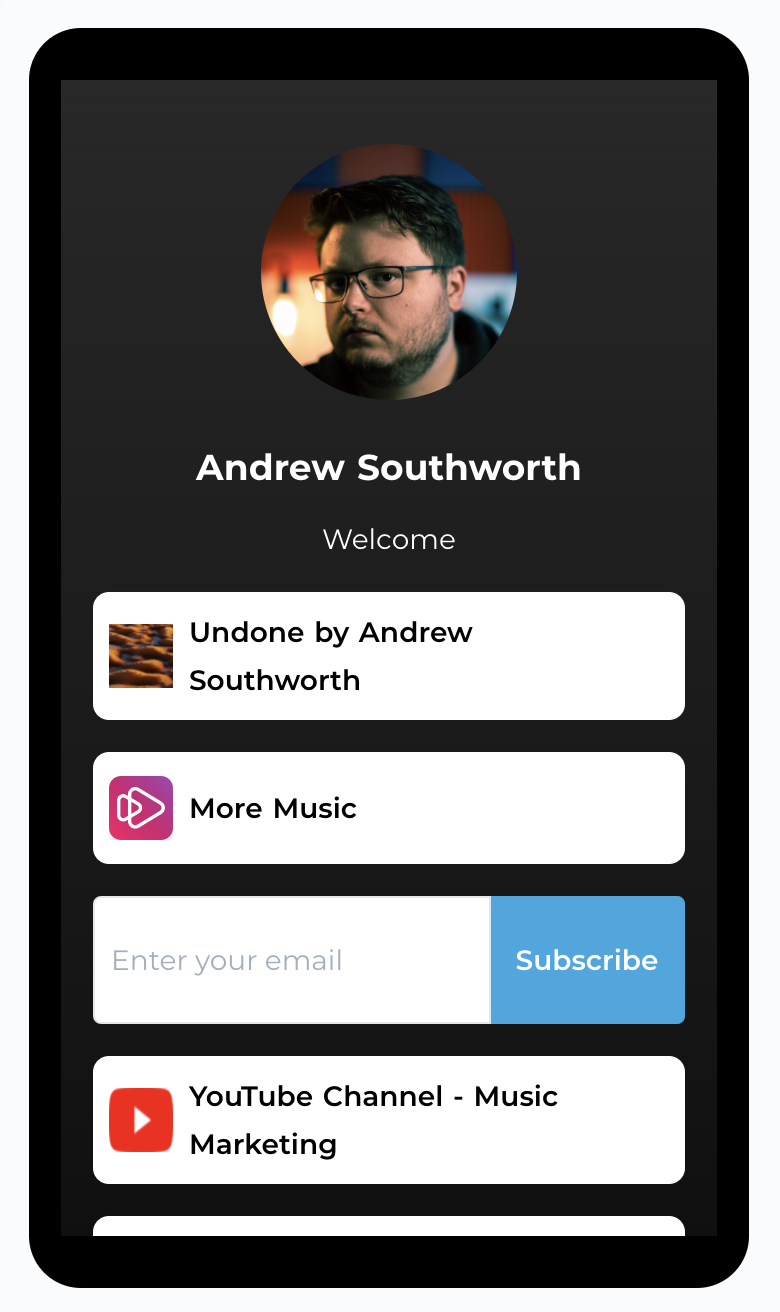 Of course you get all the awesome analytics tools you have in the smart links and action pages.
Feature FM Direct Marketing Services
Feature FM also provides some 'direct marketing services'. Through Feature FM (and you don't need to be on a paid plan to use any of these) you can run ads on Deezer, Audiomack, 8tracks and other popular music websites.
From what i've been able to tell online, at least Deezer and Audiomack sponsored song promotions are exclusive to Feature FM – I haven't seen anyone else provide this type of ad campaign service. If you're looking to promote your music on either of these platforms then these campaigns will be very useful to you.
I've run a few of these campaigns to test out, and they do a good job. For only $50 I was able to get 1,667 streams on Audiomack and 150 engagements (an engagement is defined as either a follow, favorite, artist page view, playlist addition or album page view). 50% of these streams were from the USA too, which is great.
In general i'd probably stick with Deezer and Audiomack when it comes to their campaigns, i've never heard of 8tracks and their popular music websites option is essentially just banner ads and banner ads kind of suck for music.
Deezer Campaign Creation
Setting up a campaign on Deezer or Audiomack is super easy. First you just pick your song…
Then you can define your targeting options such as locations, ages, genders, genres and similar artists.
Lastly just choose your budget and timeline for the campaign to run.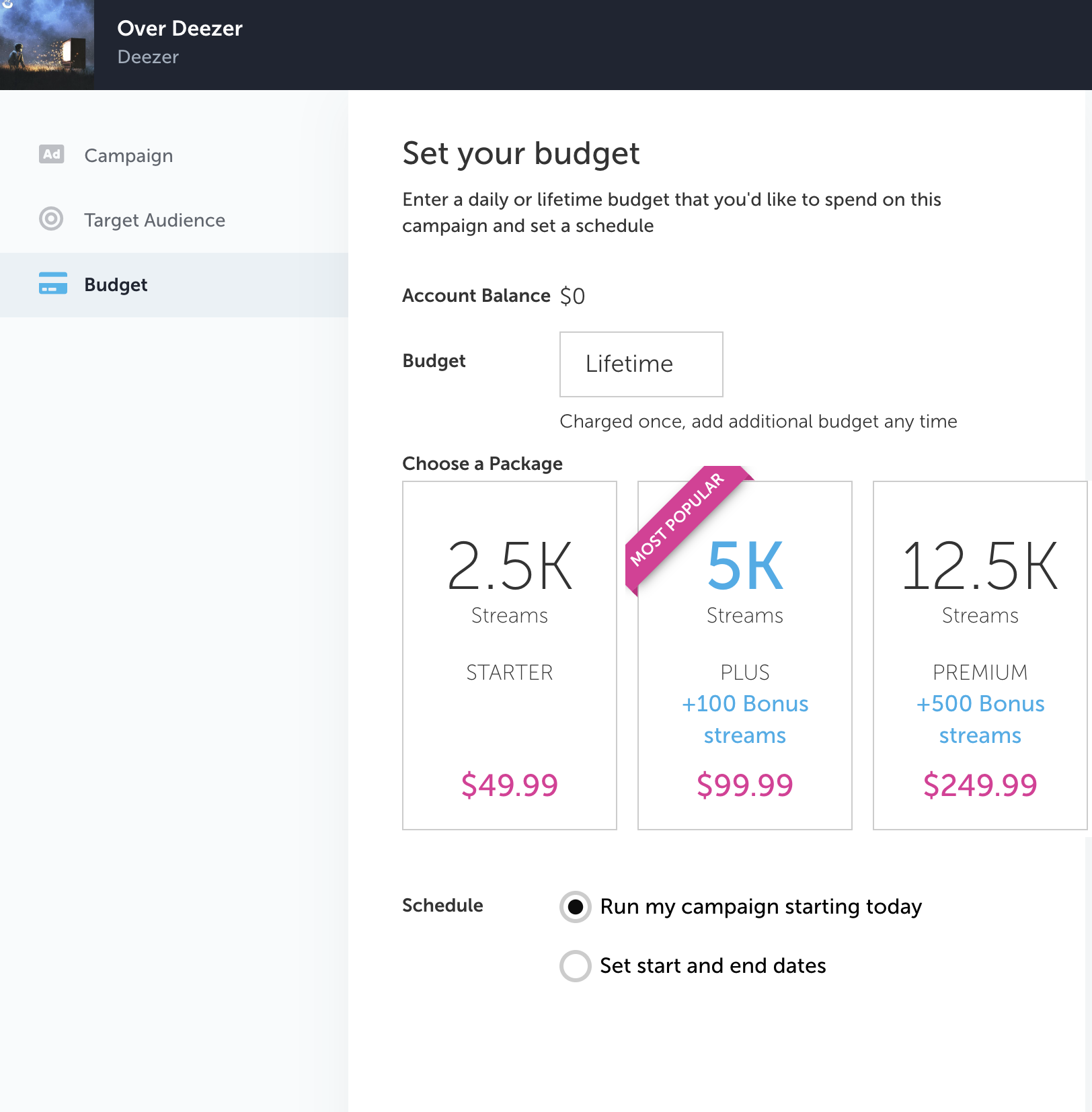 Artist Management
One fantastic aspect of Feature FM is the ability to group links and ad campaigns by artist. I don't believe this feature is available on every plan, but at a certain point in Feature FM's pricing you get the ability to have multiple artists.
With multiple artists you can save presets for each artist (domains, pixels etc). Each artist will have their own ad campaign, smart link, action page and audience section. On top of that each artist will have their own link-in-bio which is awesome.
These features make Feature FM the perfect choice for labels and managers.
User Management
I'm not sure at which plan this feature is available either, but Feature FM supports the ability to have multiple users inside your account. This means you don't need to share the login data with someone if they need access, you can invite them into your account from their own account.
If you're in a band this is super handy, but if you have a marketing team helping you out with your ads this is perfect. This was actually my entry point into seeing this feature, a client of mine used Feature FM and I was running Facebook ads for him. He was able to just invite my email into his account and I could create links and see the analytics without him sharing his password.
Feature FM Conclusion
Alright we're like 2,000 words into this article and I haven't definitively said what I think about Feature FM. However you can probably guess by now what my opinion is based on all the amazing features i've been gushing over.
My overall opinion is that Feature FM is the best smart link / pre-save service out there at the moment. At least from the ones i've tried.
My only gripes with Feature FM is I think its a bit pricey, and I wish their custom domain setup was more streamlined. The price is an issue thats debatable because if you're spending $1,000/month on advertising, should you really be complaining about spending $19/month compared to $9/month if its delivering results?
Honestly most artists could probably get by fine with their basic Artist plan which costs $19/month on a monthly plan ($17 for yearly), or at most the Pro Artist plan which is $39/month on a monthly plan ($35/month on yearly).
If you're a label, manager or agency you'll want to go with their Business plans. These are much more expensive but they give you multi-user support, multiple artist support, custom music service support and more. Chances are if you need these features you don't care about the extra price tag.
Feature FM vs Hypeddit
Hypeddit has been my main smart link service for the past couple years, and I still think its a fantastic platform. John Gold over at Hypeddit is always improving the service and listening to feedback from the community on what they want.
When it comes to smart links Feature FM and Hypeddit are direct competitors, and provide very similar features. Both services support the following:
Smart links
Pre-save links
Facebook Pixel integrations
Custom domain names
Advantages of Hypeddit over Feature FM:
Facebook Pixel Conversion API Support
Download gate support
Much lower price
Can use subdomain as custom domain
Advantages of Feature FM over Hypeddit
Better analytics reporting (not by much)
Faster loading speeds
Seamless email collection
More pixel integrations
Supports multiple users
Supports multiple custom domains
In general i'd say Feature FM is better than Hypeddit but Hypeddit is catching up. Last month they added a pretty feature packed analytics tool thats rivaling Feature FM's. Here's what it looks like on the inside: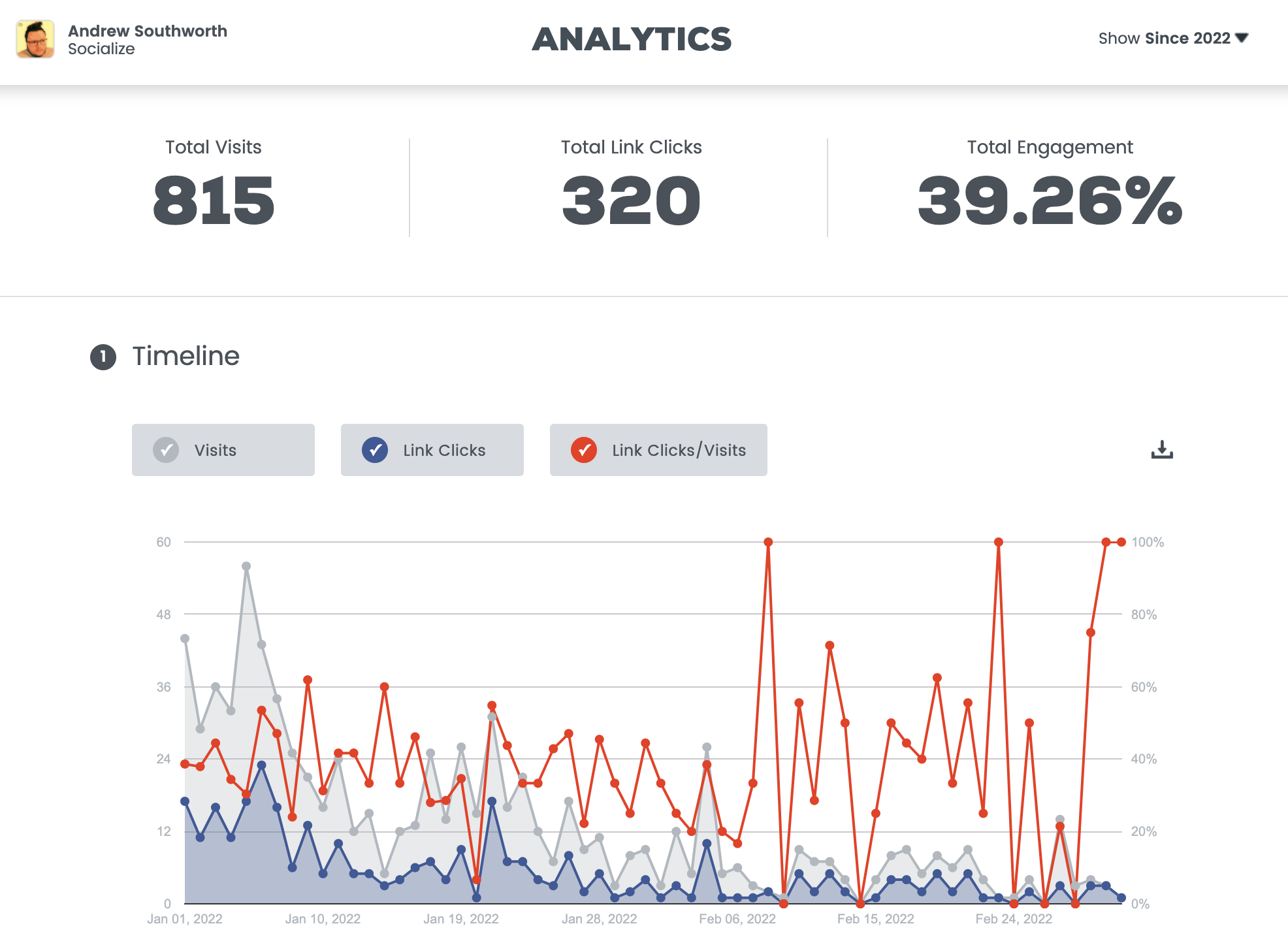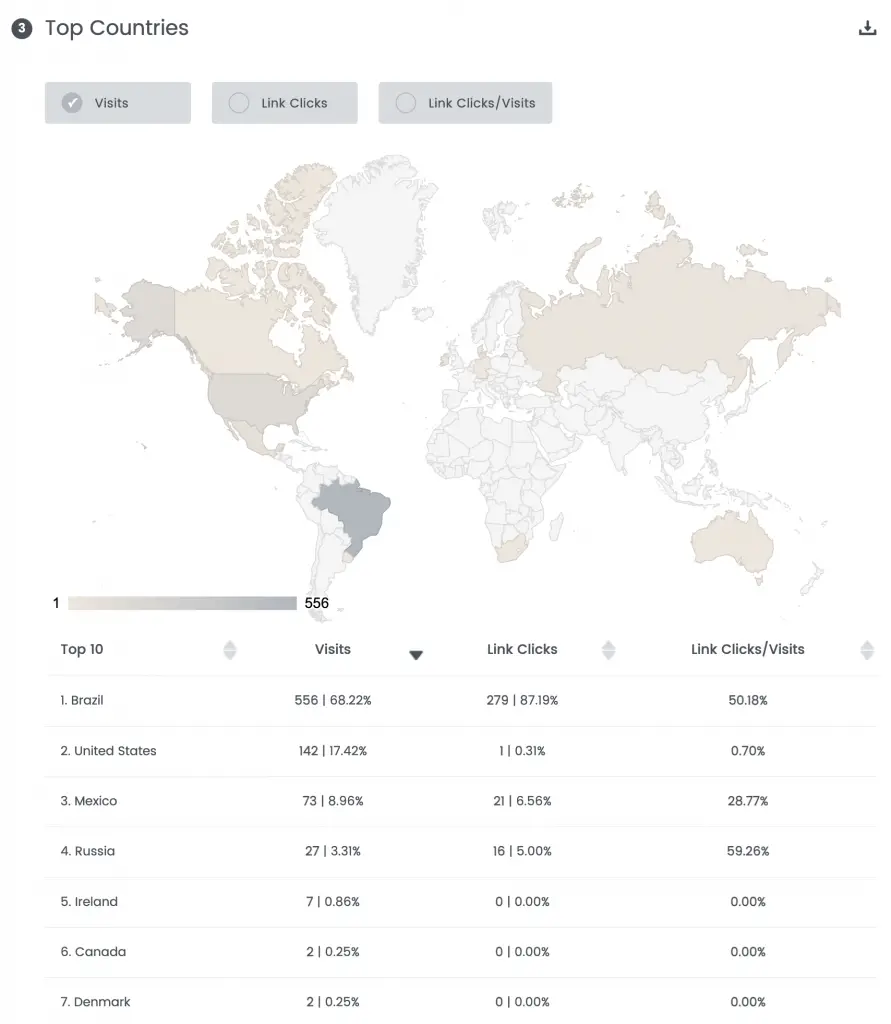 Hypeddit only costs $99/year which is cheaper than Feature FM's cheapest plan, so its incredible that they're able to provide so much value into this price point. I'd love it if Hypeddit would support multiple custom domains, multiple user access, and worked on speeding up their page load speeds. Hypeddit hits a super awesome balance of price to performance.
I'd imagine Hypeddit can justify the lower price for their service partially because they offer a handful of courses and other offerings on their website.
Feature FM vs ToneDen
ToneDen is often what I have consultation clients get started with. ToneDen provides many of the same features as Hypeddit and Feature FM but the bonus is they have a free plan available that fully supports custom domains and pixel integration. Also they have by far the easiest custom domain and pixel setup compared to the others.
Advantages of ToneDen over Feature FM
Free plan is all you need to get started with Facebook ads
Custom domain is super easy to setup
Pixel event setup is super easy (no custom conversion)
Advantages of Feature FM over ToneDen
Even better analytics reporting, Hypeddit and Feature FM beat ToneDen here
Faster loading speeds, both Hypeddit and Feature FM beat ToneDen
Seamless email collection
More pixel integrations
ToneDen actually has their own ad services that integrate directly with your Facebook ad account. So in a way they compete with Feature FM on the ad side too. However Feature FM doesn't integrate with Facebook ads and runs their ads directly on the platforms you're promoting, so I don't think there is much of a overlap to compare.
In general i'd say Feature FM is much better than ToneDen, but if you're brand new to music marketing and just want to get up and running ToneDen is much easier to get started with and also free. I know plenty of people that get amazing results with ToneDen, but the site is kind of janky.
SO if you want to try Feature FM, use coupon code ASOUTH30 for 30% off any annual plan at this link: https://feature.fm/andrewsouthworth
If you want to step up your game on Spotify to get more streams, I have a course that shows how i've used Facebook conversion ads to get over 2.6 million streams and 9,000 followers on my solo music on Spotify.