In this Drip review we cover the best features of Drip and how it's an amazing email marketing platform for music artists. Whether you're a music artist, YouTuber or social media influencer connecting with your fans and building a loyal audience is more important than ever. One of the best ways to do this is through email marketing, which allows you to reach your fans directly and keep them up-to-date on your latest releases, merch, news and more.
In this review, we'll take a closer look at Drip and why it's the best email platform for music artists. From its powerful automation features to its easy-to-use interface, we'll explore everything Drip has to offer and why it's a must-have for any serious music artist. Personally i've used over 5 email services in my journey as a music artist and content creator, and Drip is the one that beats them all.
Get your 14-day free trial here! No credit card required.
Table of Contents
What is Drip?
Drip is a cloud-based email marketing automation platform designed to help businesses and marketers engage with their audience and grow their customer base through targeted and personalized email campaigns.
With Drip, users can create and send email campaigns, segment their audience based on various criteria, and set up automated workflows to trigger specific actions based on customer behavior and engagement. Drip also offers integrations with various third-party platforms and tools, such as e-commerce and CRM systems, to streamline workflow and automate data management processes.
Drip is known for its user-friendly interface and drag-and-drop campaign builder, making it easy for both beginners and experienced marketers to create effective email campaigns. Drip also provides helpful resources and customer support to assist users in getting started and maximizing the platform's features.
Drip Pricing
Drip's pricing starts at $39/month for 2,500 contacts on your list and scales up as your active subscribers grow. Drip makes a distinction between active and deactivated subscribers. When you deactivate someone you aren't deleting them from your list, you just stop including them in email sends and Drip will stop tracking their data.
With Drip you get unlimited email sends per month, so you're incentivized to send more emails and deactivate subscribers that aren't engaged.
Here are some price points:
$39/month – 2,500 contacts
$49/month – 3,000 contacts
$89/month – 5,000 contacts
$124/month – 7,500 contacts
$209/month – 15,000 contacts
In my opinion Drip's pricing is the only real downside of the platform, but I don't necessarily think they could change it. Services like SendInBlue are significantly cheaper for music artists because they're often not sending enough emails to justify paying per contact, and SendInBlue chargers per monthly email send instead of per subscriber.
This is why when I started getting into email marketing for my music and for Genera Studios, I started with SendInBlue for a year or so before jumping over to Drip.
Features of Drip Review
Now let's take a look at Drip's features and what makes them so useful for music artists and creators.
Drip Review: Workflow Automations
Drip's Workflow Automations are a powerful feature that allows you to automate your email marketing campaigns based on fan behavior and interactions. With Automations, users can set up a series of automated emails that are triggered when a fan takes a specific action such as signing up for a mailing list or purchasing a product.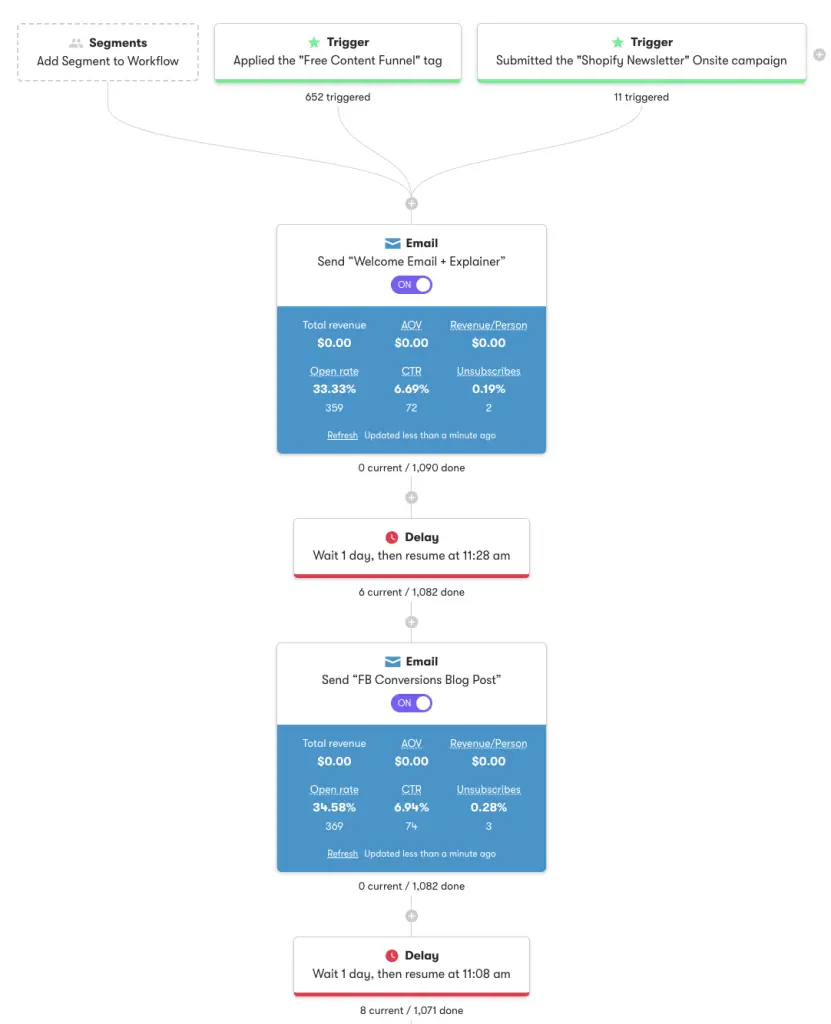 For creators, Automations can be used in a variety of ways to help build and engage their fan base. Example: a music artist could create a welcome series for new subscribers that includes a thank you email, a free song download, and a series of emails introducing the artist's music and upcoming tour dates. Another example could be to create a series of emails promoting a new album release or upcoming tour, with each email being triggered by a specific date or event.
In addition, Workflow Automations can be used to target specific segments of a music artist's fan base. For instance, an artist could create an automation that sends an email to fans who have purchased a particular album or attended a specific show, thanking them for their support and offering exclusive content or discounts on future merchandise or shows.
Automations also don't have to follow a linear path. You can create conditional if/else statements to send emails to your fans based on how they've interacted with your brand, what they've purchased or if they opened a particular email or clicked a certain link.
Drip Review: Segmentation
Drip's Segmentation features allow users to group their audience based on various criteria and characteristics, such as purchase behavior, interests, and engagement. By segmenting their audience, users can create targeted email campaigns that are more relevant and personalized to each group.
For music artists, segmentation can be used in a variety of ways to better understand their fans and create more effective email campaigns. Example: an artist could segment their audience based on location and send out targeted emails about upcoming shows in that area (if you collect location information from your fans when they join your list). Another example could be to segment their audience based on purchase behavior, such as fans who have purchased a specific album or merchandise, and send them exclusive offers or discounts on related products.
I recommend tagging your fans by product type, meaning if they've purchased digital downloads, CD's, clothing, Vinyl etc. This way you can be a little bit more strategic in your emails to your audience, and give people offers more relevant to what they prefer.
Segmentation can also be used to re-engage inactive subscribers or fans. For instance, an artist could segment their audience based on engagement, such as subscribers who haven't opened or clicked on any emails in the last few months, and send them a re-engagement campaign with exclusive content or offers to encourage them to interact with the artist's brand again.
Drip automatically tracks which emails each individual person has opened or clicked, so you can choose to deactivate people if they haven't opened or clicked on your last 10 emails. This doesn't delete their information, it just takes them out of the email rotation and ensures you aren't being charged for them being on your list.
Drip Review: Integrations
One of the best parts about Drip is that it was natively designed to work with the world's most popular e-commerce tools such as Shopify and WooCommerce.
Drip also natively integrate with Facebook for custom audience creation and Lead forms. Because of this you can setup Automation workflows or Rules that add users to specific custom audiences on Facebook for retargeting or exclusion in your ad campaigns. You can also run Instant Lead forms on Facebook ads and have that data automatically imported into your Drip account, tagged, and triggering automations.
Just like most email platforms Drip has a Zapier integration. Zapier is a super popular online tool used to connect most platforms that do not have a native integration. It takes a lot of work for companies to natively integrate with all popular software tools, so they have to prioritize what makes sense for them. With Zapier you can integrate Drip with practically any major website, store, email platform, sales funnel solution and more!
If you're a MusicFunnels subscriber (the best website and funnel builder for music artists) and you don't want to use the native MusicFunnels email platform, you can use Zapier to integrate Drip with MusicFunnels. This way when fans join your list they end up in your Drip account, or when they purchased a product they're tagged as a customer.
Additionally you can use Zapier to connect your Hypeddit emails from download gates or pre-saves to Drip. Hypeddit uses a webhook, which you can integrate directly on Zapier, to send customer information out to other platforms.
Drip Review: Onsite Forms
Drip's Onsite Forms feature allows users to create customized opt-in forms that can be embedded on their website to capture email addresses and other information from visitors. These forms can be fully customized to match the user's brand and can be set up to trigger specific actions based on visitor behavior.
For music artists, Onsite Forms can be used to grow their email list and capture information from fans. For example, an artist could create a form that offers a free download of a song in exchange for the visitor's email address. This can be a great way to incentivize visitors to sign up for the artist's mailing list and stay updated on upcoming shows and releases.
Onsite Forms can also be used to capture additional information about visitors, such as their location, interests, or preferred music genre. This information can be used to segment the artist's audience and create more personalized email campaigns, as discussed in the previous question.
Additionally, Onsite Forms can be set up to trigger specific actions based on visitor behavior. For instance, an artist could set up a form to display a pop-up message offering a discount on merchandise when a visitor adds a specific item to their cart. This can be a powerful way to increase sales and promote merchandise.
One way i'm using Onsite Forms is on Genera Studios to drive people to a lead magnet to get 10 free days of music marketing tutorials. With Onsite I can make sure the overlay form only shows to people who are not on my list, assuming they're using the same IP address they joined my list with.
How Drip Can Benefit Music Artists
Increase Fan Engagement
When you have someone's contact information you have a direct path to reach out to that person whenever you want. There is a lot of responsibility that comes with this and you don't want to abuse the power and lose that trust, but when done right it can be an amazing tool for driving engagement anywhere online.
Every time you release a new song you can promote that to your list. When you drop a new music video, announce a new tour or release a new merch design you can notify your list. The people that join your list, if you grew your list the right way, want to hear from you and want to stay up to date on what you have going on. Social media and music service algorithms don't show your content to everyone that follows you so email is a great way to increase engagement on these platforms.
Build a Loyal Fanbase
Once people are on your list you should make it your mission to provide much more value than you take. Meaning you should give them exclusive content, unreleased teasers, free downloads, coupon codes etc. It's hard to construct a long-form conversation on social media, but email is the perfect place to do it.
Subscribers will remember how much value you've provided to them when you go to ask them to check out your new merch or tour dates. If you're doing email marketing right the people on your list should be some of your most loyal and passionate fans. Additionally i'd also encourage them to reply to your emails and actually talk to them when they do, especially when you're a smaller artist and you can afford to reply to as many people as possible.
Boost Merch Sales
With Drip you can easily tag and segment your list by how they've interacted with you in the past. This means you can have people join your list and send automation emails to convert non-customers into paying customers.
Additionally you can use Onsite Forms to offer coupon codes in exchange for them joining your list. You can even create those 'spin to win' gamification forms where people enter their email to roll the dice for a certain coupon code. Even if you think these types of tools are tacky, in my experience they work quite well.
How Drip Can Benefit Content Creators
Much of what i've already said for Drip benefiting Music Artists will directly apply to content creators. However as a content creator you're likely able to further take advantage of higher ticket items such as courses, consulting, services and more. Here's how that changes things slightly…
For music artists it's harder to write as many emails their audience because in most cases they simply can't have as much to talk about. As a creator you're likely cranking out new content weekly, or multiple times per week. Your audience is used to hearing from you much more regularly than from music artists they enjoy.
If you're an educational content creator your list is your chance to further provide additional value. This additional value can sometimes just be linking people to your most useful content right when it comes out, but it could actually be exclusive content just for your email list. Music artists can do this too, but they can't keep up with the pace of creating multiple songs per week.
If you sell higher ticket items, and I mean that loosely because this could mean products that cost more than $50, this email list will be very valuable to you. Selling directly to your audience in your content is possible (I do it all the time), but selling to your email list will likely be a lot easier. It's also quite easy to give your audience a great free offer to join your list.
Again, much of this is very similar to the experience of a music artist but the subtle distinction of price point differences and content schedule make a difference thats worth this section existing.
FAQs
Is Drip easy to use?
Yes, Drip is generally considered to be an easy-to-use email marketing platform. It has a user-friendly interface that is easy to navigate and offers various templates and drag-and-drop features that make it simple to create and customize email campaigns.
Additionally, Drip offers helpful resources and customer support to help users get started and troubleshoot any issues they may encounter. Every time i've contacted support they've resolved my issue within 24 hours via email. I haven't tried the live chat feature as I seem to mostly work on my email marketing late at night.
Overall, Drip's ease of use is one of its selling points, making it a popular choice for both beginners and experienced email marketers. Maybe it's just because I have years of experience using it, but every time I use MailChimp or SendInBlue I feel like they're much clunkier than Drip.
Can I try Drip for free?
Yes, Drip offers a free trial for new users. The trial period lasts for 14 days and provides access to all of Drip's features and functionality, so users can test out the platform and determine if it is the right fit for their email marketing needs.
To sign up for the free trial, users can simply create an account on the Drip website and start building their email campaigns. They will have access to email templates, automation workflows, segmentation, and integrations during the trial period.
After the trial period ends, users can choose to upgrade to a paid plan to continue using Drip's services. Drip offers various pricing plans based on the number of contacts and emails sent per month, as well as additional features such as SMS messaging and custom event tracking.
Overall, the free trial is a great way for new users to test out Drip and see if it is the right fit for their email marketing needs before committing to a paid plan.
Is drip GDPR compliant?
Yes, Drip is GDPR (General Data Protection Regulation) compliant. GDPR is a regulation that sets rules for how personal data must be collected, processed, and used by businesses operating within the European Union (EU).
Drip has implemented various features and measures to ensure compliance with GDPR, such as providing users with tools to manage their contacts' data and preferences, obtaining consent from contacts for the use of their personal data, and offering data processing agreements to comply with GDPR's requirements for data controllers and processors.
Additionally, Drip has a dedicated privacy policy that outlines their data protection practices and their compliance with GDPR and other data protection regulations.