I've been using DistroKid for over 4 years to distribute over 70 songs to Spotify, Apple Music and the other DSP's. So not only am I very familiar with the platform, I'm very familiar with how much it costs to use DistroKid.
DistroKid has plans ranging from $22.99 USD up to $1,349.99 USD per year. Additionally they have a number of paid extras ranging from $0.99 per song to $26.99 per song, and services such as DistroVid and Mixea. The best value is the Musician Plus plan at $39.99 USD.
Let's take a look at a full breakdown of DistroKid's pricing for their core plans:
| Plan | Price (per year) | Artists |
| --- | --- | --- |
| Musician | $22.99 | 1 |
| Musician Plus | $39.99 | 2 |
| Ultimate 5 | $89.99 | 5 |
| Ultimate 10 | $139.99* | 10 |
| Ultimate 20 | $239.99* | 20 |
| Ultimate 50 | $674.99 | 50 |
| Ultimate 100 | $1,349.99 | 100 |
P.S. If you want to get the best DistroKid discount click here.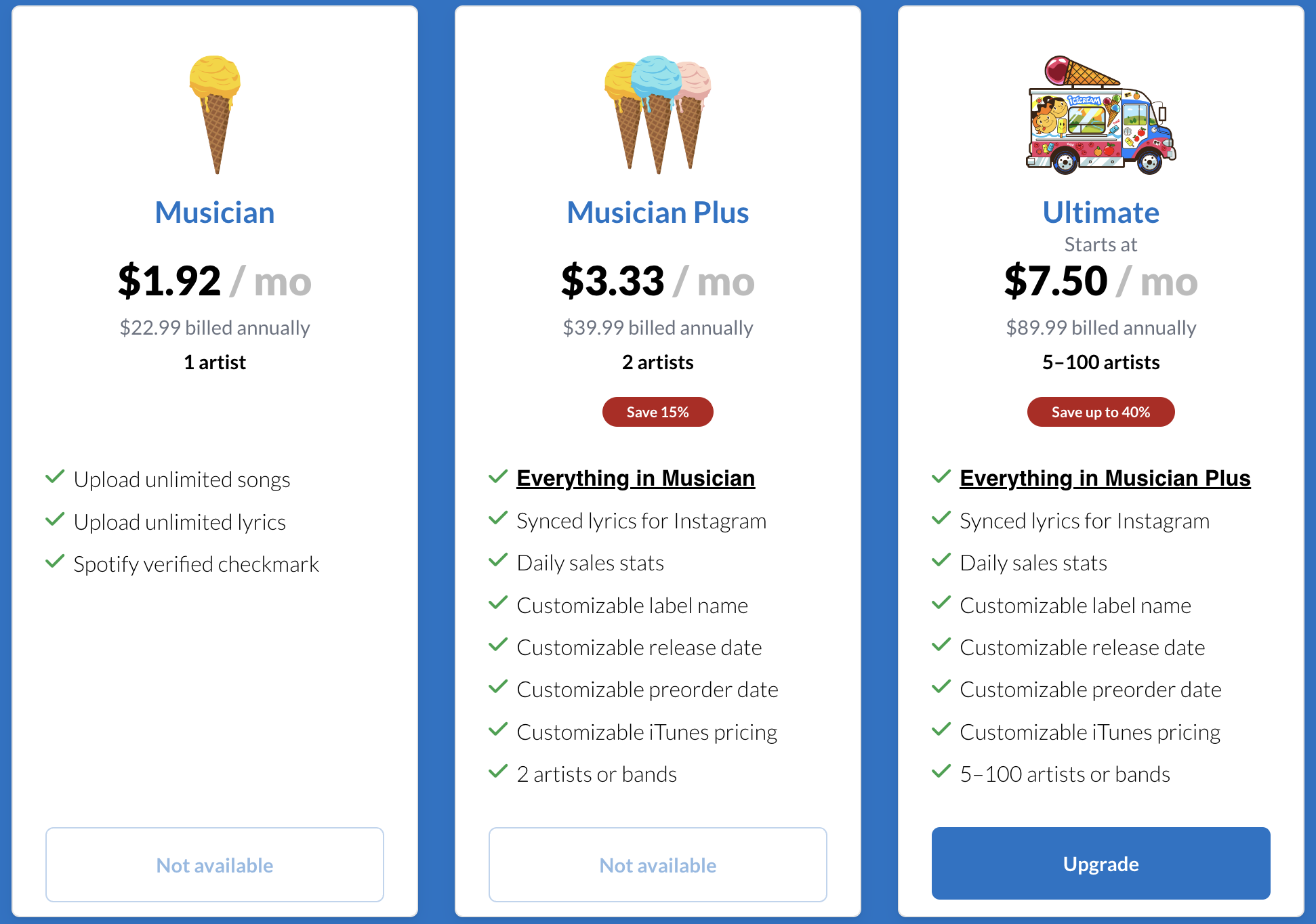 Every DistroKid plan includes:
Unlimited songs and album uploads
Distribute to over 100 stores (including Spotify, Apple Music, Tidal etc)
Keep 100% of your royalties
Instantly verified Spotify artist profile
Access to Spotify For Artists & Apple Music For Artists
DistroKid Plans Comparison
For the Musician Plus plan and above, the only difference between the DistroKid plans is the number of artists you can distribute for. Musician gives you unlimited uploads for one artist slot, Musician Plus gives you unlimited uploads for two artist slots, and the Ultimate plans give you unlimited uploads for 5-100 artist slots.
A very important difference between their cheapest Musician plan and all other plans is the Musician tier doesn't allow you specify release dates, upload synced lyrics, access daily sales stats, customize your label name, customize preorder dates or customize iTunes pricing.
For this reason I always recommend that artists get the Musician Plus plan, because scheduling your releases is a necessity in my opinion. For example, if you don't specify your release date you can't pitch your song to Spotify editorial playlists. It also would make it a lot harder to effectively plan a marketing strategy because you don't know exactly when your song will go live.
Choose the DistroKid Musician Plus plan if:
You want to set release dates
You want to release music for up to 2 artists
Customizing your label name, preorder name, iTunes pricing matters to you
Synced lyrics to Instagram matters to you
In my opinion the Musician Plus plan and above is the only option and it's what I recommend. However your situation may vary so…
Choose the DistroKid Musician plan if:
You just can't afford it
You're just getting started with releasing your music
You aren't going to be marketing your music
DistroKid Ultimate Plans
DistroKid's Ultimate plans are designed for record labels or people with multiple music projects and artist names.
The only difference between Ultimate plans and the Musician Plus plan is the number of artists you can release under.
I'm personally on an Ultimate plan because I release as Andrew Southworth, Every Waking Moment, Murder Nite and a few other projects. However if you do a lot of collaborations with multiple primary artists you may end up needing one of the Ultimate plans as well, because every multiple primary artist release requires an artist slot.
While we're talking about comparing plans, check out my post going over the best Spotify promotion services.
DistroKid Discount: The Best Price
The best DistroKid discount out there is 7% off your first year. Actually whether you're a regular customer or a social media influencer, everyone has access to the same affiliate program with the same discount. So click here to get 7% off your first year of DistroKid.
This is why you see all those YouTubers you watch having the exact same discount.
DistroKid does not offer a free trial (although they did a long time ago) so using one of these coupon codes is your best bet.
If you want to get unlimited music distribution for up to 5 artists, plus free YouTube content ID check out Melodist.
Other DistroKid Services
DistroKid has also branched out to include several other paid services for music artists. These are all 100% optional and are separate costs from the core DistroKid service. These include DistroVid, Vizy, Social Phone and Mixea.
DistroVid
DistroVid is a music video distribution service offering unlimited distribution to Vevo, Apple Music, Tidal and DistroVid Gallery for $99 per year.
It's important to note that this service is specifically for music videos. Visualizers, lyric videos and artwork videos will be rejected. Additionally videos with too much text and credits may be rejected as well. This isn't a DistroVid requirement, it's a requirement by the platforms that host these videos.
Views from these videos pay royalties depending on the platform they're on.
Social Phone
Social Phone is a two-way SMS text message service offering unlimited texting for $12.99 per month. You can communicate back and forth with your fans or mass-text them all.
This price is actually quite good considering it includes international texting. Often text messages in the USA cost around 1 penny per SMS segment, but some international texts can cost much more. My guess is they know most people don't send many texts and that profit offsets the loss from people that send a ton of texts. Either way, it's a good deal.
Mixea
Mixea is an online AI mastering tool offering unlimited mastered tracks for $99 per year. Before signing up you can upload and preview as many tracks as you want for free, and you get one free download.
It's not going to compete with masters done by actual mastering engineers, but if your alternative is no master at all or a bad master yourself this may be a great option. Many online AI mastering tools charge a fee per song, so to get that same quality master for unlimited songs at a low yearly price definitely fits a void in the market.
Personally this tool isn't for me as I feel i'm pretty solid at mastering, but I know a lot of people that would benefit from this.
Vizy
Vizy is a music visualizer generator. You choose a template, select a release, choose your video size and then pay $8.99 to get the video. Once you checkout your video will be ready for download in an hour or two.
In terms of quality they're pretty good for automatically generated visualizers. I'm sure a professional could do a better job but it would likely cost 20X more. For me personally, visualizers are just something extra you throw online.
Music videos are generally best, lyric videos and performance videos are under them, and visualizers are at the bottom of the barrel. This of course depends on your genre, some fans really value visualizers. I use them in a pinch when I don't have any other video assets and release day is fast approaching.
At this price it's a no-brainer.
Get 7% off DistroKid when you signup through my link → https://distrokid.com/vip/andrewsouthworth
Looking for the best website builder, online store, email marketing and funnel platform for music artists? Check out MusicFunnels!