At some point in your music career you're going to want a website. Whether you want to sell your music and merch or just have a place to show off your music and tour schedule, you need a website. 
In this article we're going to go through the top 5 best website builders for musicians and music artists. I've had experience using all of these platforms and know dozens of music creators using each of them, so hopefully this saves you some time finding what works best for you! To save you even more time here is the best website builder for musicians…
The best overall website builder for musicians is MusicFunnels. The combination of fast drag & drop page design with a full online store and funnel builder at such a low price, makes MusicFunnels an ideal choice for music artists on a budget.
If you're looking for my top 5 best website builders for musicians…
Top 5 best website builders for musicians:
MusicFunnels
WordPress
Shopify
Squarespace
Wix
Bandzoogle
Do Musicians Need a Website?
Many musicians and music artists often think they don't need a website because of services like FeatureFM, Hypeddit or Koji. However while each of these services are awesome they don't give you the full power and flexibility to truly own your audience and platform like a website does. 
If you're just getting started you might not need a website from day one, but from the moment you start taking your music seriously and investing time and money into marketing you should make one. 
Your website is the home for all of your music links, all of your social media links, a canvas for you to show of your visuals, the place for your blog, the place you collect email leads, and the place you sell your products. You can install tracking pixels on it to learn about your audience and retargeting them with ads. You can even build an exclusive membership platforms for your fans to hang out on. Nobody controls the content on there except you, unlike social media where the algorithms dictate what you can post and who sees it.
Remember, you don't own the audience you build on social media channels. Social media is great for building an audience but you should make it a goal to extract as many people from social media to your own platform(s).
Domain Name
There are two general parts to a website: one is the actual website and the other is the domain name (aka the URL you type to go to that website). The focus of this article is on the website platform you choose but you will need a domain name.
Luckily domain names are quite cheap, usually around $20-$40 per year. I personally use Domain.com for all my domains. When you buy your domain name through them you can simply link it to whatever website platform you use, and if you switch your website platform later its super easy to unlink it and point it towards your new website platform.
Other options are GoDaddy, NameCheap, Google Domains and countless others.
MusicFunnels for Musicians
MusicFunnels is my choice for number 1 best website builder for musicians. When it comes to actually building a website the MusicFunnels builder is quick and fluid, and the final site ends up feeling the same. Everything is drag & drop, but you have the power to embed custom code if you have that skillset.
Additionally MusicFunnels also comes with a fully featured store with product variants, inventory tracking, shipping zones and more. You can sell physical, digital, service and membership products at either fixed prices, subscription prices or payment plans. On top of all that you can customize the product pages using the drag & drop builder, unlike many other platforms that lock the product pages down.
Starting at the $27/month plan you not only get all of that, but you also get music marketing funnels. Funnels are by far the best tool for selling products online or getting leads, especially for paid traffic. If you aren't familiar with funnels they're a tool to guide your customers through the purchase journey with the goal of increasing your average cart value and simplifying your customer's experience.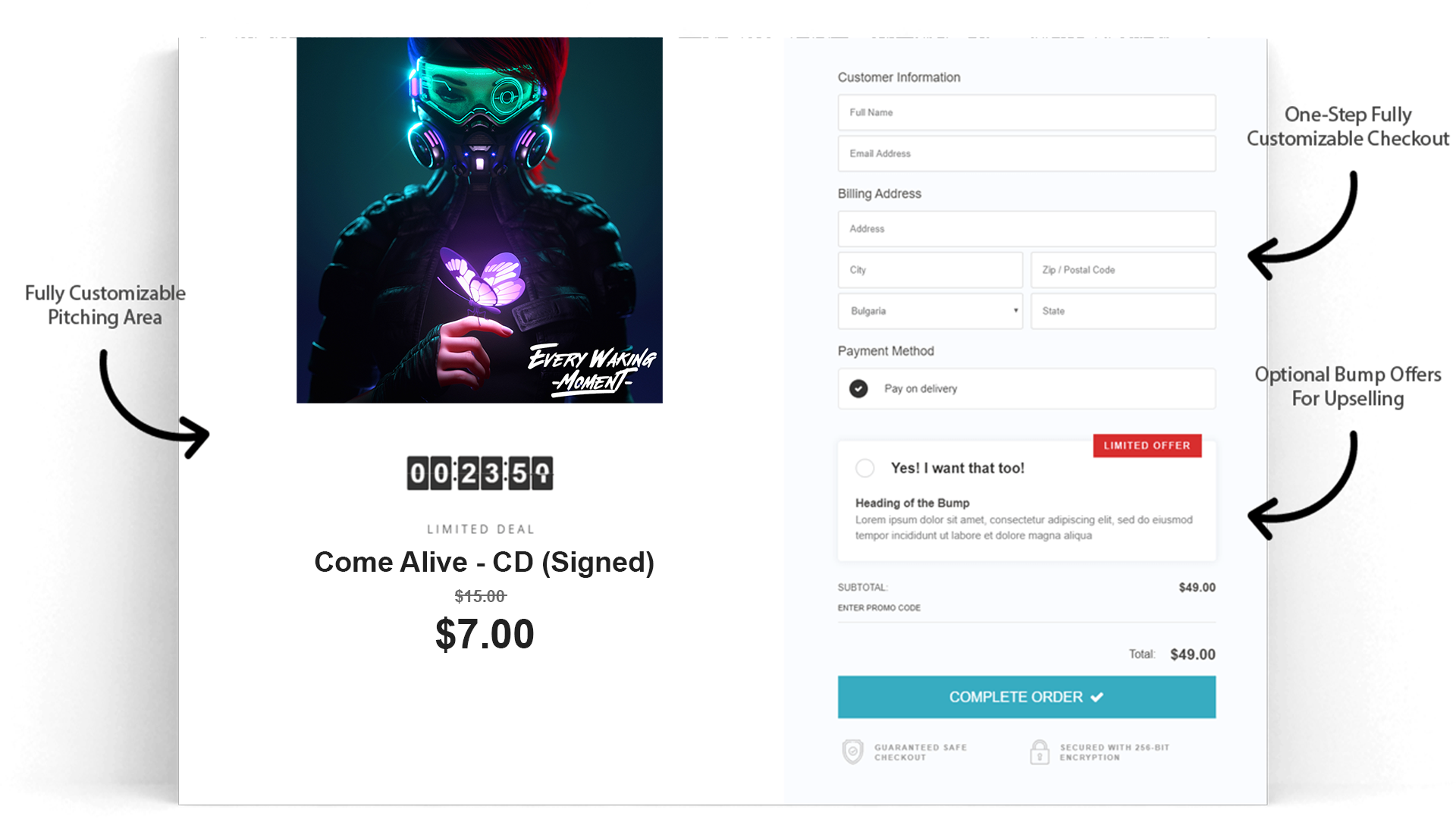 On that same plan you can also sell memberships, which can either be a subscription product or a fixed price product. This means you can sell things like courses, or Patreon-like platforms. Your fans can manage their subscription from their account dashboard, and access is automatically revoked when their plan expires.
It even has email marketing, automations, a booking calendar system and a full CRM. But you can also directly integrate with MailChimp, ActiveCampaign, Zapier and more.
Now I want to be transparent here, i'm a bit biased because MusicFunnels is my platform. However the reason I created MusicFunnels was because I had experience with all the platforms on this page, and none of them quite did everything I wanted to do at a price the average independent musician can justify.
I'm not saying it's a perfect platform by any means. Shopify beats us in the store department and integrations, but their website builder is lacking and they don't have sales funnels unless you pay $97/month for Zipify pages, and they don't offer memberships. WordPress beats us in customization and flexibility but it has a much steeper learning curve and almost every plugin cost extra.
WordPress for Musicians
WordPress is a great choice for musicians, bands and music artists. Its also the platform i'm using for this website! The main reason why I think WordPress is an amazing option for most music artists is simply how customizable you can be with it.
WordPress is an open-source platform, meaning its entirely free to use. Because of this companies have created entire industries selling themes and plugins to expand the functionality of your website.
Out of the box WordPress is a platform built for blogging (this site is built on WordPress), but you don't even need to use any of the blogging features if you don't want to. Here are some awesome things you can create on a WordPress website:
A fully-featured store with WooCommerce
Sales funnels with WooFunnels
Landing pages to collect contact information from fans
An EPK to display all the relevant information for your band
A membership platform similar to Patreon
A course content delivery site
A simple website to display your links and media
You can do much more than this as well. There are custom themes available to start your own beat store or sample pack store on WordPress. Pretty much any type of website you can imagine, it can be built on WordPress.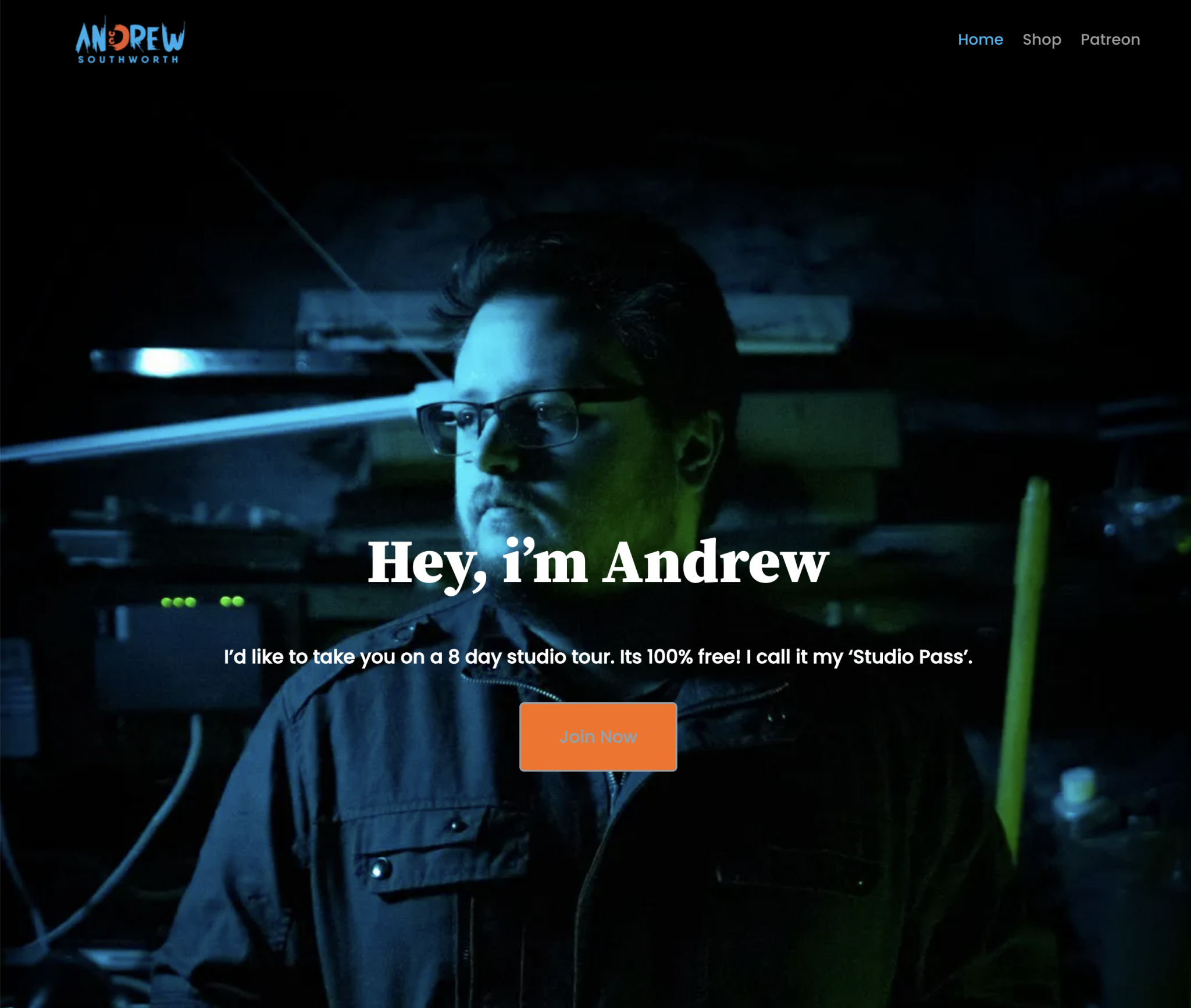 What do you need to use WordPress?
To run a WordPress website there are a few things you'll need, aside from a domain name.
A WordPress theme
A hosting account
For themes I tend to look on ThemeForest, an Envato Market company. You can sort for music website themes, and then sort further by ones that support WooCommerce. Personally I also like the Elementor site builder over WPBakery, but either will work.
For hosting i've been very happy with SiteGround. They have plans that start at $3.99 per month if you only have one website, and $6.99 for unlimited websites. The reason I chose SiteGround over the competition was they had a cheaper monthly price, and they were hosting designed for WordPress.
WordPress hosting typically needs to be faster than hosting for a generic website, due to the nature of how WordPress operates. I've tried hosting WordPress sites on regular hosting that I already had, and it was super slow. With SiteGround it loads super fast – remember this website is on WordPress and is also hosted on SiteGround, so use this site as an example.
Shopify for Musicians
Shopify has by far the best online store platform for almost any business, music artists included. One of the biggest perks of Shopify for musicians is their direct integration with Spotify – allowing you list your products directly on your Spotify profile. 
Right out of the box Shopify makes it super easy to list physical or digital products. You can control inventory, have product variations, track the weights of each individual item, and integrate it with a shipping platform like PirateShip or ShipStation. You can collect payments via credit card, PayPal, Apple Pay and more.
You can easily manage orders, track customers, make coupon codes and integrate with marketing platforms. The website design and production creation is very intuitive requiring zero coding. You also get instant access to build a blog. 
A huge feature of Shopify is that since it's so common it has a giant 'App Store' where you can expand the functionality of Shopify by adding free and paid apps. Whatever service you use for your email list likely has a Shopify plugin. There is a plugin to directly integrate the print-on-demand services Printful or Printify. There are plugins to add upsells, downsells, pop-up forms or even sell memberships. 
There are some downsides to Shopify though. Most of these apps are not free, and many are more expensive monthly than Shopify by itself. While the website creation is incredibly easy, its not as easy to make anything you want as you're locked into whatever your chosen template allows. While you can make custom pages unless you pay for a page design app you'll have to do some coding if you want anything fancy.
Overall I love Shopify. It's the best online store platform you can use, but its not the best overall website builder.
Squarespace for Musicians
Squarespace is an incredibly popular website builder for musicians. One of its greatest assets is how easy it is to build a beautiful looking website and online store. They don't have as many themes compared to Wix, but almost every single one is stunning while Wix has a lot of filler.
Within an hour of creating your Squarespace account you could have a completely customized website with an online store. You can integrated your store with print-on-demand platforms like Printful as well, or you could sell digital downloads.
They have support for membership sites, subscription products, gift cards, and the ability to link your store to your Facebook / Instagram page.
Minimum plans start at $14/month, but if you want a store you're probably going to want their $27/month Basic Commerce plan.
Wix for Musicians
Wix is very similar to Squarespace in almost every way. Personally i've found Wix to be slightly more intuitive when it comes to their drag-and-drop website builder. Back in the early days of my website Genera Studios, when I was focused on selling sample packs and Kontakt libraries, one big reason I chose Wix over Squarespace was that Wix allowed for a larger digital download product file size.
When it comes to pricing Wix beats Squarespace slightly, at least for e-commerce features. If you're also going to use Wix / Squarespace as an online store, Wix includes abandoned cart recovery features on their $23/month plan but on Squarespace its limited to their $65/month plan and above.
There are many people online who claim that Wix has SEO (search engine optimization) issues, but it sounds like many of those claims are from years ago and Wix has since addressed those issues.
Its hard for me to say if Wix or Squarespace is better for you, so i'd recommend getting a free trial on both and seeing which one you like best! Wix has a lifetime free plan, but Squarespace has a 14 day free trial.
Bandzoogle for Musicians
Bandzoogle is the platform on this list i've had the least experience. Actually, zero personal experience, but i've worked with plenty of clients who use it so i've gotten to use it myself.
The nice thing about Bandzoogle is its 100% built for music creators. The main features they advertise on their home page are:
Sell Music – launch your own digital music store to sell single tracks and albums.
Sell Merch – take online orders for band apparel, vinyl and other physical merch.
Sell Tickets – manage live and virtual events with a calendar and built-in ticket sales.
Subscriptions – earn monthly income from fans who subscribe to your website.
Crowdfunding – raise funds to bring your next fan-supported music project to life.
They provide a built in EPK (electronic press kit) feature. Plus common features like pixel integration, Google analytics integration, discount codes and support for print-on-demand platforms like Printful are there.
I will point out that all of these features can be done in some way on each of the other website builders i've talked about on this post. However with Bandzoogle they're built out-of-the-box for musicians, so they won't require as many 'hacks' or plugins to get working the way you need them to.
The pricing is incredibly fair, at only $16.63/month you get their Pro account which gives you access to all of the features I listed above and more. In terms of raw pricing, aside from WordPress, this beats all the others.
In my opinion the interface of Bandzoogle is kind of outdated. It doesn't have the same modern flair that MusicFunnels, Shopify, Squarespace and Wix have. As far as I can tell they don't offer any type of funnel feature like MusicFunnels. But it definitely gets the job done – I know plenty of artists using Bandzoogle with no complaints.
Also their customer support is fantastic!
Best Sales Funnel for Musicians
I might be a little bit biased, but I think MusicFunnels is the best sales funnel solution for music artists because it was created by music artists. With our Store + Funnels plan you get 5 music marketing funnels, website / store creation, email marketing, membership platforms and more.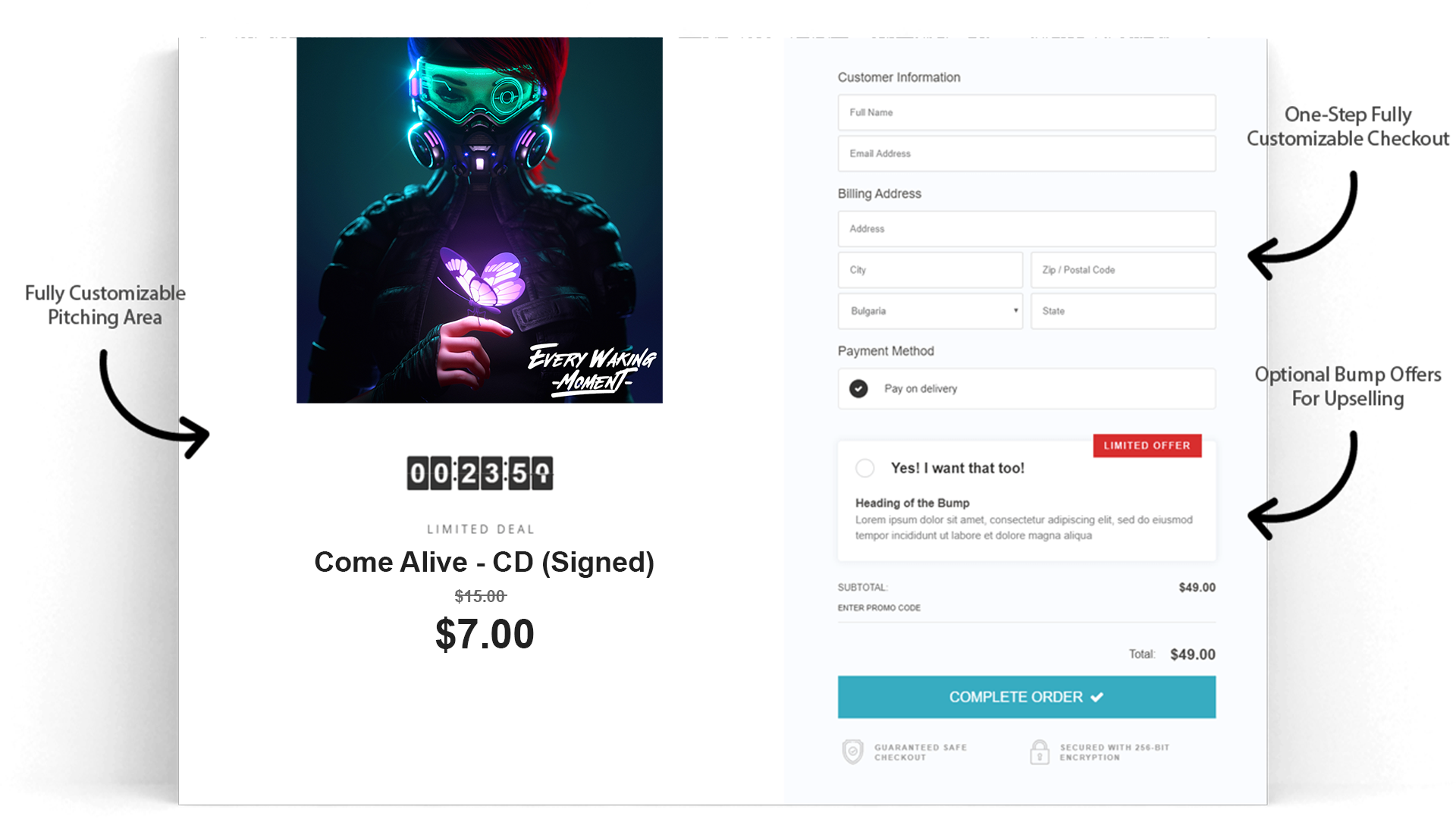 Now lets talk about sales funnels…
Think of a regular online store like a Wal-Mart or Target, where you walk in to choose your products and then check out at the front. A sales funnel is more like when you have to talk to a salesperson, and they help find you what you need and recommend additional products you might like. 
With a funnel you're typically selling a single product or bundle on the page. So you might have a CD for sale and when a customer buys the CD you'll 'upsell' them a CD bundle (do you want fries with that?), and if they say no to that you might 'downsell' them a digital version of that CD bundle for cheaper. 
When you sign up for MusicFunnels you get a bunch of template funnels and blocks built for music artists. Trying to do a free plus shipping and handling offer? We have a template for that. Trying to give away a free download to grow your list? We have a template for that. Plus we're always adding new templates every month and running test campaigns. Click here to check it out.
ThriveCart is another fantastic sales funnel solution for any industry, but some if its features make it perfect for music artists compared to the competition. I wrote another article about ThriveCart for music artists, but here i'll summarize why I love it.
I wrote a post about how I sold 100+ CD's in 1 month using Facebook ads, check it out here: https://musicgrowthmachine.com/how-i-sold-100-cds-in-1-month-in-2022/
Please Share If It Helped You!